Gallup finds that for most Americans mental health is worse than it has been at any point in the last two decades.
People who attend church services weekly have reported a general improvement in their mental well-being, according to a new survey by Gallup. 
That improvement is in stark contrast with Americans' overall feelings about their mental health this year.
Americans' latest assessment of their mental health is worse than it has been at any point in the last two decades, said Gallup, which has conducted a mental health survey each year since 2001. Seventy-six percent of U.S. adults rate their mental health positively — a nine-point decline from 2019, the public opinion organization reported. 
An obvious suspect for this development is the COVID-19 pandemic, which has severely disrupted the lives of people all over the world. Sickness, death, lockdowns, isolation, and unemployment have taken quite a toll on people's lives. There have been reports of increased depression and suicide.
In June, U.S. adults reported considerably elevated adverse mental health conditions associated with COVID-19, according to the Centers for Disease Control and Prevention. "Younger adults, racial/ethnic minorities, essential workers, and unpaid adult caregivers reported having experienced disproportionately worse mental health outcomes, increased substance use, and elevated suicidal ideation," the CDC said.
This year, Gallup's annual Health and Healthcare survey, conducted between November 5-19, also comes in the wake of a contentious national election — still unsettled for some — as well as racial tensions and uncertainty about economic prospects for many Americans. 
But the drop in Americans' positive appraisal of their mental and emotional well-being varies across demographic subgroups, Gallup pointed out. The following groups' ratings of their mental health as excellent fell by double digits since 2019: women, Republicans, independents, those who attend religious services less than weekly, White adults, those who are unmarried, older adults, and lower-income Americans. 
Democrats and frequent church attendees, the organization said, show the least change in their mental health ratings.
In fact, the latter group showed an improvement. Forty-six percent of weekly churchgoers considered their mental health excellent in 2020, compared to 42% in 2019.
People who attend between monthly and nearly weekly and reported excellent mental health, meanwhile, dropped from 47% to 35% over the same time period. And for those who never or seldom attend, the reported feelings of excellent mental health slid from 42% to 29%. 
The results of the survey are reminiscent of other studies showing benefits of regular religious observance. In a 2016 study published by JAMA Psychiatry, researchers found that, between 1996 and 2010, "women who attended any religious service once a week or more were five times less likely to commit suicide."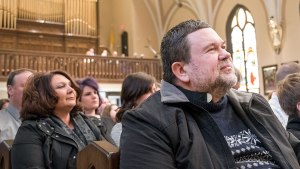 Read more:
5 Surprising health benefits of church attendance