We're facing a lot of emotional ups and downs, but there's a path to equilibrium in the midst of it all.
"One day I'm fine and the next day I'm a wreck. Am I going crazy?" Many of us probably feel this way. The way we experience our days during this pandemic can be very different from usual. There are days when we feel that our energy is good and that we're up to doing a lot, but there are others when we may have trouble eve getting out of bed. This instability is normal because of the changes we have to deal with every day.
Even though we can't touch each other due to social distancing, we're more sensitive. It's very easy for us to experience downswings in our mood because of the negative emotions that are common and hard to avoid. Many of us are suffering anxiety caused by constant feelings of emptiness, and anguish due to projecting a view of the future that may be overly negative.
How we live will determine whether we go through this great instability well or poorly. Taking some practical steps can help us to better pass through the difficulties and fears that challenge us. The right approach can reduce the constant pressures we experience and anchor us in the present, helping us live in a realistic way, with a more optimistic and grateful attitude.
Step 1: Accept reality
The first step is to accept that the situation is beyond our control. We live in uncertainty, and with the changing and unusual circumstances of the pandemic, we cannot do everything we planned. It's not a good idea to try to do everything we had hoped at all costs, or to avoid thinking about or recognizing what's going on. It's not a matter of surrendering or resigning, but of knowing how to let go of what is beyond our control.
Working lovingly towards genuine acceptance allows us to look with more compassion at ourselves and those around us, to take the burden of these circumstances off our shoulders. For example, when, due to the situation, we fail to deliver a job on time or could not accomplish the exercise routine we had planned for ourselves, we need to understand that, like everyone else, we're doing the best we can.
The only thing we can control is our attitude, our response, towards what happens to us. When we choose to accept reality, we leave prejudices aside and new opportunities open up to have conversations that allow us to express what we feel. From a very human point of view, this openness takes away pressure and discomfort.
Step 2: Adopt a flexible attitude
Accepting that every day is going to be different and that we have to face these emotional whirlwinds invites us to adopt a more flexible attitude, which may be somewhat uncomfortable at first. Discomfort is part of life, and today we have to live through many uncomfortable situations. Being flexible will allow us to have better, higher quality days.
Flexibility means understanding that there are things we can learn and ways we can improve ourselves in the situation we're experiencing. We might say, for example, "I can't do much, but I'll do something that will do me good"; "The reason I'm having a hard time with this is because it reflects something going on inside that I haven't been willing to face"; "I wanted to do many things, but the internet failed. Tomorrow will be another day to start again."
Organizing clear routines so we can have a pattern of activities is essential, but so is incorporating a flexible attitude so that we'll be able to adapt when necessary. Lowering our demands will ensure that we don't end up exhausted at the end of the day and that we'll have other opportunities, more peace of mind, and less urgency in many of the things we do.
Read more:
3 Dos and don'ts for talking to your kids about fear during a pandemic
Step 3: Be grateful for everything
When we accept reality for what it is and become more flexible in seeing opportunities, we begin to be grateful for what we have, be it much or little. When we're grateful it's easier to live in the present, to be rooted in the place where we are and in what we are doing at this particular moment. This helps dissipate fears about a future we cannot fully predict.
By giving thanks in an explicit and verbal way for everything that happens to us, the good and the bad, we begin to focus on higher things. As we connect with love, we connect with God. The act of giving thanks opens the door for us to be more generous and empathetic, and can even boost our immune systems.
Step 4: Reflect and learn
Being patient is not simply about waiting for the pandemic to end, but about waiting with confidence that the end will indeed come and that that we will come out of this experience changed—for better or worse, depending on how we deal with it. It's key for us to start thinking about different ways of living, about how to adjust our priorities, about the people with whom we share our lives, and about what makes us happy today.
Staying at home should also make us reflect on our "interior" house, which also requires cleaning and disinfection sometimes. We need to review what we really need and how we can live better. Getting along better with one another and having less internal conflict makes us more patient. When we have greater confidence, we regain calm in the midst of the storms of life.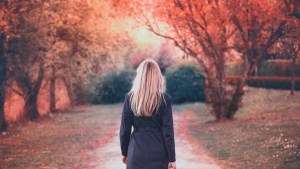 Read more:
How to be less distracted and scattered when stress is high