This extraordinary little boy's courage and commitment is drawing international acclaim.
What can God do in your life with one Bible verse a day?
Subscribe to Aleteia's new service and bring Scripture into your morning:
Just one verse each day.
Click to bring God's word to your inbox
As the year draws to a close, it's good to look back on moments of triumph and hope that have taken place during this difficult time. The story I'm about to tell has its moments of suffering and sorrow, so I'm going to think like a good movie director and start telling this story from the end, which is also—literally—a finish line. Here it is.
Mission accomplished! On June 30, 2020, Tony Hudgell—a five-year-old bilateral amputee—reached the ambitious goal he had set himself, to walk the distance of 10 km (6.25 miles) in a month, walking on his prosthetic legs. He completed the feat in Kent, England. Today, Tony is applauded as a hero by the whole country and around the world.
One step at a time out of the nightmare
This difficult walk had a charitable goal: to raise £500 (roughly $675) for Evelina London Children's Hospital. The fundraising went much better than expected: Tony raised over £1 million! People were moved by his story, both because a child was the hero, and because—whether we are aware of it or not—when other people overcome their wounds, it heals ours as well.
Tony arrived at Evelina Hospital in critical condition in 2015, when he was just a few weeks old. His adoptive mother Paula Hudgell tells the story in an opinion piece for Sky News:
At five weeks old, he had all his limbs broken, dislocations of his ankle, his toes, his thumbs, multiple fractures—and he had been left without medical attention for up to 10 days—and by that time, his poor little body had just given up. He developed sepsis—toxic shock—multiple organ failure, he also had a mass on the brain and ended up on life support.
What on earth had happened? Although the details were not entirely clear, it was domestic child abuse. Both of the child's biological parents were arrested, but they risked getting away with what they had done because it was difficult to establish their responsibility. In 2018, thanks to Paula Hudgell's tireless advocacy for her adopted son, they were sentenced to 10 years in prison.
Although Tony's tiny body had almost given up, the medical staff took care of him with incredible care and prevented his death. The amputation of his legs was a painful but necessary life-saving intervention. At Evelina Hospital, Tony lost his legs but found a new life.
The long walk last June was Tony's way of saying "thank you" to those doctors who, by treating him with sometimes drastic measures, saved his life and made it possible for him to meet the adoptive family that would welcome him. In that very room where the little baby was dealing with such pain, Paula Hudgell entered—and with her, a household full of life.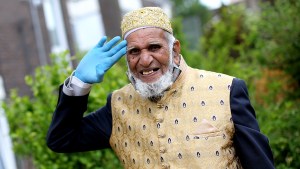 Read more:
7 "Unsung heroes" during the pandemic honored by Queen Elizabeth II
A family of 8
Paula Hudgell and her husband Mark already had 7 biological children. They were a large family and—probably precisely for this reason—they lived everyday life with the mentality that their door was always open.
They welcomed little Tony, willing to help him overcome his wounds. Tony left behind (not without significant scars) a history of violence and abandonment, to be embraced by seven siblings and two parents. The "subtraction" he had suffered gave way to a happy "multiplication."
Hudgell explains that she and her husband decided from the beginning not to treat Tony differently from their other children; they would "love and protect him" but also give him the opportunity and the challenge of living like a normal kid. He rose to the challenge, and lifted up the whole family with him. Hudgell wrote for Sky News:
Tony has undoubtedly changed our lives, he is such a joy to have around and all the kids treat him exactly the same as the others, they all idolize each other. Tony has changed their outlook on life—they do not complain about things anymore and all pitch in to help. They have become far more caring and accepting of other people now. They have realized how hard things can be for other people now, too. We are a real team now.
This statement debunks an idea that has sometimes crossed my mind: Wouldn't such a fragile child need a family in which all the attention would be focused on him? Evidently it's a mistake to see it like that. In addition to the specifically physical care, which Tony has not lacked at all, this family has taught him how to have healthy relationships, and not to isolate himself in his wounded past.
In fact, both at school and in other social contexts, Tony is growing up to be open and enthusiastic. His mother says, "He started school in September, a mainstream school, settled in extremely well and has super exceeded all their expectations for him. He is just an incredible little boy, full of life, doing very well and extremely bright."
It's the opposite of what you would expect from someone who was so brutally abused when he was very young. I can only imagine that the presence of so many siblings helped him not to fall into the trap of thinking only about himself, and therefore of being trapped in his own limitations and nightmares.
Even the walk that made him famous in England, in reality, is not the result of an idea born in solitude, but of an inspiration that came from another person's example.
Unexpected strength in weakness
The story of Captain Tom Moore has become famous all over the world: He is the 100-year-old war veteran who walked 100 laps around his garden with a walker. His "marathon," completed in April in full lockdown, was aimed at raising funds for the British hospitals involved in dealing with the COVID-19 pandemic. Tom's feat became iconic and inspired media campaigns. He was knighted by Queen Elizabeth and entered the Guinness Book of Records.
Among the Captain's viewers, Tony Hudgell looked at him with particular empathy. That centenarian who was struggling to put one foot in front of the other was so similar to him, a 5-year-old boy whose handicap is precisely one that makes walking difficult.
Usually it's children who reawaken enthusiasm in the elderly, but in this case the opposite happened. A man in the twilight of life inspired a child who is looking for his own path in the world. Captain Tom Moore inspired Tony Hudgell to set himself the ambitious goal—which he eventually reached—of taking a long walk to raise funds to support and thank his doctors. In the aftermath of this success, the child's parents are already setting him another goal, of a completely different kind.
The charitable goal of Tony's walk was commendable, but his mother Paula admits that she observed her son's efforts carefully, to see if it was possible to imagine him walking on his prostheses without the support of crutches. Apparently, it's a less distant goal than expected. We hope, therefore, that this story will have other chapters to write.
In the meantime here we are, seeing once again how human achievements that put our daily complaints and laziness to shame come from unexpected places, from people whom society would otherwise have written off.
Read more:
Meet the 99-year-old war veteran walking 100 miles to raise funds for those affected by COVID-19