Mother Mary Francis will give you the perspective you need on cleanliness of heart and home.
What can God do in your life with one Bible verse a day?
Subscribe to Aleteia's new service and bring Scripture into your morning:
Just one verse each day.
Click to bring God's word to your inbox
Advent is the perfect time to reevaluate our hearts and do a little bit of cleaning as we prepare for the coming of Our Lord at Christmas time. This season of preparation is a microcosm of our entire life, which we spend preparing for the ultimate coming of Our Lord, both at our death, and at the end of time. The Church gives us plenty of opportunity to reflect upon, and clean out some of the dust that collects within our souls. But what does it really mean to clean something? 
My wife and I have five children under the age of six. If you visit our home during the day, you find a joyful chaos that is something like Care Bears meets The Sopranos. Sometimes you find the warm embrace of Tenderheart Bear. Other times you find a henchman like Paulie "Walnuts" Gualtieri. Toys, loud little voices, sticky hands, and all kinds of smells … keeping a clean house within a domestic Kingdom of God can sometimes be a source of frustration for the grownups. 
In her magnificent book, Come, Lord Jesus: Meditations on the Art of Waiting, Mother Mary Francis (P.P.C.), offers a unique perspective about maintaining a clean house: 
What do we mean by a clean house? What do we mean by a clean kitchen? There can be something that looks like cleanness, just because nothing is going on … there are two ways, for instance, in which you could have a clean kitchen. One is that the cook never does anything there; that no service ever happens there. Everything is in its proper place and is never taken out. There is no work. There is no love.
To truly clean something implies that it has become messy. The toy room becomes messy because there have been children living and loving there. Of course, you could have a perfectly spotless toy room if you locked up the toy bin, and the toys were never touched. 
Mother Mary continues:
Then there is the kitchen that is the result of loving behavior, after there have been some spills; some scorching of pans boiling over. Lots of work has gone on, and wherever human work has gone on, there is always going to be some spills … but then it is all cleaned up afterward. That is a very different kind of a clean kitchen from the first kind.
My favorite TV show of all time is easily the sitcom Everybody Loves Raymond. Ray, his wife, Deborah, and their children live across the street from his parents, Frank and Marie. Marie is the classic homemaker that prides herself on an impeccably clean house. In one episode, the family challenges her to remove the plastic slipcovers from the living room sofa. Deborah says that she prefers to "spend time enjoying [my family], not sterilizing them!" Marie eventually gives in and removes the slipcover from the sofa. Ray's brother Robert chimes in with, "But where are we gonna sit?"
Mother Mary Francis meditates on this very situation:
Then too there is a clean house. The kind of thing we have heard about, read about, shivered about: Women who are so tyrannical that they have a spotless house, because nobody is really allowed to live there. Nothing really happens in a deeply human sense. It's clean all right, but for lack of life.
To have life within our homes is to have love within our homes. And to have love requires that human beings participate and share in life with each other. And human beings are imperfect creatures. A truly clean house is a beautifully imperfect house. Mother Mary continues with her reflection:
You could have very clean dishes if you never fed anyone. You could have a shining stove if nothing is ever cooked on it.

But there can be the house that is so beautifully clean because the mother is always cleaning up the inevitable messes that human living entails – the happy little disorders that come with human living, and the messes that perhaps should not have been made, but then should not be pointed at – just cleaned up. And that is a very different kind of clean house.
Advent is the season of cleaning up. We could (in theory) have what seem to be perfectly clean hearts if we sat dormant, and did absolutely nothing. But that would be what Pope Francis often warns about: a Church (or in our individual lives, a heart) that is locked, that doesn't take risks by going out to seek the One who was born in a stable and walked the dusty roads to the Cross.
Seeking the Lord's forgiveness by repenting of our sins is truly cleaning our hearts, minds, and souls. During this anticipatory season, let's all take time to create a truly clean heart. Or, as Mother Mary would say:
Nothing else could be meant by a "clean heart" but a "

cleaned

heart." If the just man falls seven times a day, then he can have a clean heart only by asking forgiveness seven times, made seven firm purposes of amendment, seven acts of reparation, seven determinations going forward. Then he has a

cleaned

heart.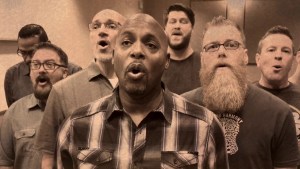 Read more:
Acappella men's choir sings thrilling version of "Create in Me a Clean Heart"