The December 19 concert will feature classic Christmas favorites, with a few new arrangements.
On Saturday, December 19, the Choir of Men and Boys at St. Paul's Choir School (SPCS) will stream a Christmas concert. Called "Starry Night: Christmas in Harvard Square," the show will be prerecorded and available to view by anyone who donates to the St. Paul Choir School. The concert features children singers from the SPCS, with adult singers joining them from local New England colleges.
As the title suggests, the event drew inspiration from Van Gogh's 1889 masterpiece "Starry Night." The arrangements of the 15 selected songs will keep this theme in mind. In a statement, provided by Wicked Local, Dr. Thomas Haferd, SPCS Head of School, said of the theme:
"This concert film, like Van Gogh's masterpiece, offers a calming experience to music lovers wherever they may be. For the Saint Paul's Choir School community, the performance is a welcome reminder of the traditions that, now more than ever, ground and define us all."
The concert will draw together favorite Christmas tunes from as far back as Bach to as recent as John Rutter. Original arrangements of some holiday classics were penned by SPCS founder Theodore Marier and choirmaster James Kennerley. Kennerley will also serve as conductor for the show. In the statement, Kennerley said:
"During this year it has become crystal clear just how much we all need music in our lives," said Kennerley. "Choral music is so very special around Christmas time. In light of the need to adapt this season, we created a program that welcomes the listener inside the performance, as if they were immersed in the music and sitting among us, as our community has since 1963. Selections inspired by Van Gogh's famous painting include several arrangements that I composed just for this performance, pieces that I particularly loved to sing myself as a boy chorister."
How to watch
In order to receive an invitation to view the stream, interested parties must make a donation to the St. Paul Choir School. Suggested donations start at $20, but there is a "custom" option for those who cannot meet this goal. Those who donate will be sent a link in an email, which will confirm the donation. The show can be viewed as many times as one might like after purchase.
The stream will be available at 7 p.m. EST on December 19. Click here to learn more.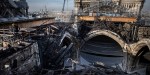 Read more:
Notre Dame choir to hold Christmas concert in empty cathedral