COVID-19 restrictions eased following archdiocese's threat of lawsuit.
After the Roman Catholic Archdiocese of Washington, D.C., filed a lawsuit claiming that the city's COVID-19 restrictions unfairly targeted Catholics, D.C. Mayor Muriel E. Bowser announced a modification of those regulations.
Instead of a 50-person limit on attendance in any house of worship, regardless of its seating capacity, the new regulations will allow churches, synagogues, mosques and temples to admit a number equal to 25% capacity — not to exceed 250 persons.
Announced Wednesday, the modification took effect Thursday at midnight. 
"We are grateful that the new order will allow us to welcome more of the faithful to church during the Christmas season and beyond," the archdiocese said in a statement. "We are continuing to evaluate the impact of these new rules, and it may still be necessary for the court to weigh in on the proper balance between public safety and the fundamental right to worship. As always, we welcome continued dialogue with the mayor's office to ensure that current and future restrictions are fairly applied and do not unduly burden the free exercise of religion."
For the cavernous Basilica of the National Shrine of the Immaculate Conception, which can seat about 10,000 people, the 25% of capacity rule would normally mean 2,500 worshipers, spread out between the main church and the crypt church downstairs. But the 250-person cap means a tenth of that.
For a more typical church, seating around 1,000 persons, the 250 limit more or less would coincide with the 25% rule.
Msgr. Walter Rossi, rector of the Basilica, told the Washington Post that he would like to admit even more people, but that the change in policy is an improvement. 
Rossi says every Sunday the Shrine turns away hundreds of people. Last weekend over four services they turned away nearly 1,000, he said.

"It's sad for us and heartbreaking almost. When people are crying because they want to go to church, how do you console them? I understand the mayor is trying to keep us safe and that's commendable, but people want and need to go to church. Especially in times like this, when prayer is vital."
The mayor's new order says the updated rules offer "parity" among different types of activities, the Post reported.
"Indoor restaurant dining was reduced from 50 percent capacity to 25 percent capacity as of Monday, the order notes, adding that under the new rule, the city's largest restaurants could host no more than 250 people at a time," the newspaper said. "The order further states that the city will impose a 250-person cap on a wider variety of socially distant activities. No more than 250 people may play sports on the same playing field; browse a museum on the same floor; frequent a gym, indoor skate park, bowling alley, or skating rink; or shop in a store.
"With such a high rate of community transmission, some persons at large gatherings are likely to be exposed to the virus," Bowser's order warned. "Such exposure is likely even when a range of additional preventative actions are taken, such as adherence to social distancing rules."
The order seemed to be referring to the archdiocese when it referenced a "recent lawsuit" that "appears to insist on a constitutional right to hold indoor worship services of even a thousand persons or more at the largest facilities." That, the order said, "flies in the face of all scientific and medical advice and will doubtless put parishioners in harm's way."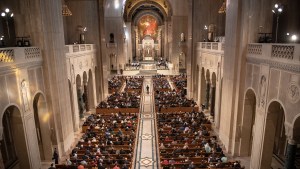 Read more:
Washington Archdiocese sues District of Columbia over 50-person cap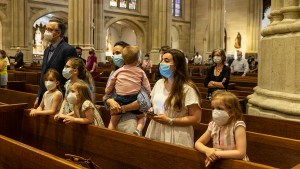 Read more:
Taking precautions, Catholic churches have avoided COVID outbreaks, doctors say