Little moments of human connection show the reality of COVID-19.
On Thanksgiving Day, Dr. Joseph Varon didn't go home for dinner. He stayed at United Memorial Hospital in Houston, Texas, where he works, and ate as best he could with a colleague.
His meal schedule is no different from other days. "Whatever they bring is what I will eat because you don't know when you're going to eat again," he told AFP. There was a lot of work to be done to attend to patients, especially those with COVID-19.
"I want to be with my wife"
The doctor, who is the hospital's chief of staff, was in the COVID unit. He noticed an elderly patient "out of his bed and trying to get out of the room and he's crying," Dr. Varon told CNN's Susannah Cullinane. The patient was distressed and wanted to go home.
"So I get close to him and I ask him, 'Why are you crying?'" the doctor told CNN. "I want to be with my wife," the old man replies.
At that moment, it wasn't medical care the man needed; it was a human connection. "So, I just grab him, I hold him; I did not know that I was being photographed at that time," Dr. Varon said.
A photographer from Getty captured that moment. The photo swiftly went viral. It's a reflection of how COVID-19 patients and the health workers who attend them feel. It shows a hug full of humanity, that tries to compensate for the lack of hugs from family and friends, who are prohibited from visiting or touching their loved ones.
Dr. Varon explained that this was not the first patient he had seen in this precarious emotional situation. "Some of them cry, some of them try to escape—we actually had somebody that tried to escape through a window the other day," he told CNN.
It's devastatingly hard to be alone and unable to communicate with family for days, weeks, and maybe months, time that is filled with fear and with sadness. "We have so many patients that sometimes we cannot hold every patient or grab the hand of a patient or at least try to be a little more human," the doctor said.
Read more:
Photo of doctor praying the Rosary in COVID-19 hospital goes viral
A photo so they know who he is
Dr. Varon and his staff try to humanize the situation creatively. For example, he wears a photograph of himself on a lanyard so that patients can see his face, even though he's wearing a protective suit with a visor and a mask.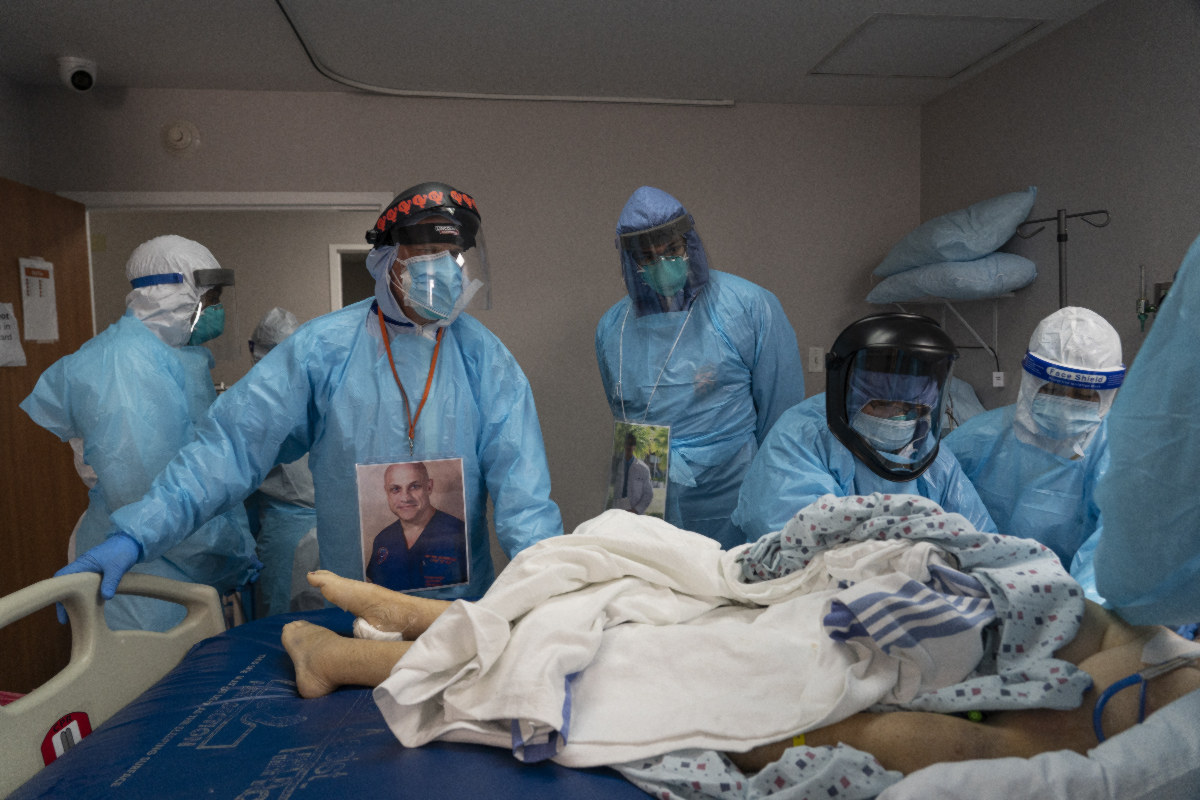 At this point, he has been working for more than eight months without rest. Speaking with CNN the Monday after Thanksgiving, Varon said he had spent 256 days working without a day off.
"I don't know what keeps me going, I don't know how I haven't broken down," he said; indeed, he's seen some of his work colleagues fall apart. "My nurses cry in the middle of the day because they get so sad, sometimes for situations like this. Just seeing a patient that's crying because he wants to see his family."
A call for responsibility from everyone
After seeing an image such as this one of a doctor embracing a person in a situation of maximum vulnerability, it makes you wonder if we're doing everything we can to stop the spread of COVID-19. The doctor's words on the matter are clear. "I do this day in and day out and people are out there doing the wrong thing. People are out there in bars, restaurants, malls—it is crazy," he says to CNN.
"It's like we work, work, work, work, work and people don't listen and then they end up in my ICU … What people need to know is that—I don't want to have to be hugging them," he adds.
In an interview with ABC published November 30, Dr. Varon didn't sound optimistic. "I truly believe that the next six to 12 weeks are going to be the darkest weeks in modern American medical history," he told the network.
How can we help overcome the pandemic? Dr. Varon says people should simply follow the basic guidelines: "Keep your social distance; wear your mask; wash your hands and avoid going to places where there are a lot of people. Very simple. If people can do that, health care workers like me will be able to — hopefully — rest."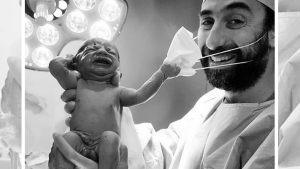 Read more:
Newborn pulls down doctor's mask, and becomes a "sign of hope"