With pandemic restrictions keeping Mass attendance low, Pope Francis seeks to allow more of the faithful to participate in the feast day liturgies.
Pope Francis is allowing a special exception this year for the feasts of Christmas, the Solemnity of Mary the Mother of God (January 1), and Epiphany, allowing priests to celebrate four Masses on each of these days, so more of the faithful can have a chance to attend Mass within the restrictions caused by the pandemic.
The decree dated December 16 from the Congregation for Divine Worship and the Discipline of the Sacraments, allows for bishops to grant the permission wherever it is necessary for "the benefit of the faithful."
The permission is for this year only. Under normal circumstances, a priest can only celebrate three Masses a day.
According to the Code of Canon Law, "If there is a shortage of priests, the local ordinary can allow priests to celebrate twice a day for a just cause, or if pastoral necessity requires it, even three times on Sundays and holy days of obligation" (can. 905, para. 2).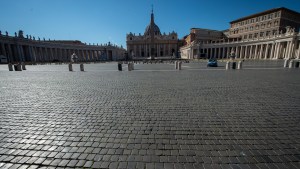 Read more:
Special indulgences granted for COVID-19 victims, caregivers, those praying for them