The Spanish monk was saved when a mysterious old man, leading a donkey, appeared to him.
St. Joseph is known as a protector, and many over the centuries have invoked his intercession in their time of need.
Read more:
This ancient prayer to St. Joseph has "never been known to fail"
One such story is told in the 19th-century book Devotion to Saint Joseph. The author explains how a Spanish monk was heading back to the monastery and was in danger of being killed.
A monk of the Monastery of Montserrat, in Spain, was greatly devoted to St Joseph and especially to the mystery of his journey into Egypt with Jesus and His holy Mother. Returning, quite late one evening, to his monastery he lost his way among the mountains.Night drawing on he saw himself in danger of becoming a prey either to wild beasts or to the brigands who infested those solitary places. In his extremity he recommended himself to St. Joseph when suddenly he met a grave old man leading a [donkey] which had a woman upon it holding an infant in her arms.
The monk asked the old man how he could get back to the monastery.
"If you will follow me," answered the stranger, "although the night is dark and the road difficult, I will show it to you, for I know it perfectly."
The strange old man, along with his donkey and the woman upon it holding her baby, led the monk back to the monastery and then promptly "disappeared."
The monk, "felt assured that it was St. Joseph who, in company of Jesus and Mary, delivered him from his perilous position. Their holy words remained so deeply engraved on his heart that he preserved the sweet savor of them to his dying day."
Regardless of the veracity of the story, it reminds us that St. Joseph is a powerful intercessor and can aid us in our need.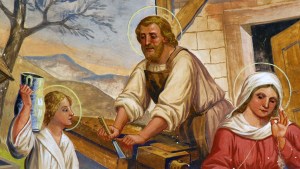 Read more:
Powerful prayer to St. Joseph for conversion