Spread the cheer without spreading illness by Christmas caroling online.
The pandemic has made 2020 a very difficult year for social interactions, but it has been wonderful to see how people can overcome these hurdles to keep some traditions alive. On Halloween, costumes were shared through social media, and Thanksgiving brought families together on Zoom. Now, Christmas carolers are taking their tunes online to continue the centuries-old tradition of spreading Christmas cheer through song. 
Interactive caroling
There are a variety of ways to enjoy Christmas carols online, including some interactive resources. One place to start is the Catholic Information Center, which has put together a virtual caroling kit. The CIC provides an eBook of Christmas carols, with a list of Christmas themed cocktails included. They recently put on a little virtual party with the book that went off without a hitch. Although the party has already taken place, this Virtual Caroling Party Guide remains as an invaluable resource for those planning their own event.
There are even resources for those who wish to take their caroling to the next level. If you have a good group of voices, or if you'd like to get a recording of all the kids in your family singing carols, consider a paid caroling kit. One example is the kit put together by the Podd Brothers which includes musical arrangements, step-by-step instructions, and even help with licensing. Soon you'll have a musical Christmas memory that can be brought out every year.
Non-interactive caroling
Singing along to carols is a great deal of fun, but there are some who would rather not raise their voices in song — at least publicly. There are plenty of ways to enjoy some fine carol concerts both live and recorded, this Christmas season. These include:
These are just some of the best upcoming concerts to keep in mind, but there is an abundance of caroling performances that you can watch right now online. We recommend starting with this incredible caroling video that starts small and just keeps growing until there's practically a full orchestra on the front lawn:
Hosting your own party
While the professional quality of recorded carols can be fun to watch, the most charming performance are often those sung by a group of family and friends. Consider organizing your loved ones to meet on Zoom or the like to sing through your favorite hymns. It doesn't have to sound worthy of Carnegie Hall to bring us a wholesome feeling.
When hosting your own party, we suggest that you take stock of your participants' favorite carols before you pick them out. Be sure to supply them all with the lyrics so that you can get right to singing. It's also a fun idea to send out your favorite recipes for Wassail, figgy pudding, and the like. 
For those who want to host a party, but may be put off by amount of work involved, they can take advantage of the excellent caroling service put together by Why Christmas. This 35-minute pre-recorded event features classic Christmas carols as well as seasonal Gospel readings. While they don't have an endless supply of songs, lyrics are included, making it an easy way to organize a quick caroling session.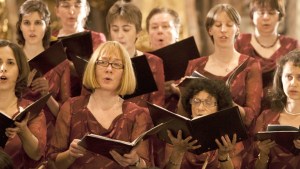 Read more:
Before Christmas carols, Christians sang these holiday hymns