The Virgin Mary receives the longed-for Messiah into her womb.
Today is the nineteenth day in our set of meditations inspired by Jesse Tree Advent Tradition. (To see previous days, click here.)
The concept comes from a passage in Isaiah, where the prophet says, "There shall come forth a shoot from the stump of Jesse, and a branch shall grow out of his roots" (11:1). Jesse is the father of King David, and Jesus was born into that same line of David through his foster-father's (Joseph's) ancestry.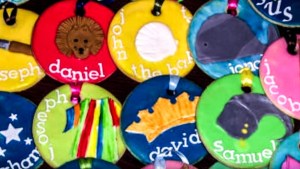 Read more:
Preparing for Christmas? Consider making a Jesse tree
Each day of December we will offer a brief Scripture passage and reflection, following God's marvelous plan of salvation in the Jesse Tree tradition.
Scripture
Mary said, "Behold, I am the handmaid of the Lord. May it be done to me according to your word." Then the angel departed from her.(Luke 1:38)
Reflection
For both Abraham and Mary, the divine promise comes as something completely unexpected. God disrupts the daily course of their lives, overturning its settled rhythms and conventional expectations. For both Abraham and Mary, the promise seems impossible. Abraham's wife Sarah was barren, and Mary is not yet married: "How can this come about", she asks, "since I am a virgin?" (Lk 1:34).Like Abraham, Mary is asked to say yes to something that has never happened before. Sarah is the first in the line of barren wives in the Bible who conceive by God's power, just as Elizabeth will be the last. Gabriel speaks of Elizabeth to reassure Mary: "Know this too: your kinswoman Elizabeth has, in her old age, herself conceived a son" (Lk 1:36).Like Abraham, Mary must walk through darkness, in which she must simply trust the One who called her. Yet even her question, "How can this come about?", suggests that Mary is ready to say yes, despite her fears and uncertainties. Mary asks not whether the promise is possible, but only how it will be fulfilled. It comes as no surprise, therefore, when finally she utters her fiat: "I am the handmaid of the Lord. Let what you have said be done to me" (Lk 1:38). With these words, Mary shows herself the true daughter of Abraham, and she becomes the Mother of Christ and Mother of all believers.(St. John Paul II, Homily, March 25, 2000)

Prayer

O God, who through the child-bearing of the holy Virgin
graciously revealed the radiance of your glory to the world,
grant, we pray,
that we may venerate with integrity of faith
the mystery of so wondrous an Incarnation
and always celebrate it with due reverence.
Through our Lord Jesus Christ, your Son,
who lives and reigns with you in the unity of the Holy Spirit,
one God, for ever and ever.


---

To receive inspiring notifications during Advent download the Aleteia App. You'll get not only the Advent reflections for your daily life, but also the possibility to read Aleteia offline.

Our mobile app is free, fast, smooth, intuitive – we hope you'll like it, and that it will help you stay closer to the kind of stories that will raise your spirits.