The Dominican Friars offer this fourth meditation on the Scriptures for this Advent season
With just a week remaining until Christmas, the Church directs us to turn to the Blessed Virgin Mary. She contemplates the wondrous works of God. Her life exemplifies what it means to embrace the mystery of our salvation. Pope Benedict XVI writes,
"With only a few days until the Feast of Christmas, we are invited to fix our gaze on the ineffable mystery that Mary treasured for nine months in her virginal womb: the mystery of God who is made man. This is the first foundation of the redemption."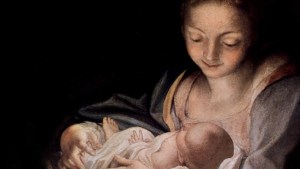 Read more:
Mysteries worthy of delight: Where to turn our minds in these days
This special Sunday episode of the weekly podcast Godsplaining features the readings from the Fourth Sunday of Advent. The friars read the readings aloud, then offer reflection and commentary. Follow along with this Sunday's readings: First reading- 2 Samuel 7:1-5, 8B-12, 14A, 16; Second reading- Romans 16:25-27; Gospel- Luke 1:26-38.
Join the Dominican Friars as they explore the rich, theological meaning of the Scriptures and offer practical, relatable tips for daily Catholic living.
Listen on Soundcloud, Spotify, Apple Podcasts, Google Podcasts and wherever podcasts are found.