What does the meaning of life come down to, if it isn't this?
Each night during Advent when our family gathers for dinner, we light the candles on our Advent wreath. As the days slip past and Christmas approaches, the candles burn down lower and lower. Eventually, the violet candle we lit during the first week of Advent may even entirely burn away.
Over the years, I've come to grasp that every Christian symbol carries a meaning that overflows from what we might consider purely spiritual considerations into more practical considerations. These symbols aren't just about Church — they bear fruit in everyday life. Among these symbols are candles. Candles are used not only with Advent wreaths, but at baptisms, funerals, and indeed, every time a Mass is offered. Candles symbolize not only the light of Christ, but also the concept of sacrifice. In order to feed the flame, the wax must be slowly burned away and, over time, the candles begin to disappear. The lesson is clear — if our light is going to shine in the darkness, we're going to have to make ourselves into a self-gift.
Like many families, in addition to setting up an Advent wreath we also decorate our house for Christmas. The kids set up our little Nativity under the Christmas tree. The Christ-child isn't there yet — He doesn't show up until Christmas. The Wise Men haven't arrived, either. They're still out there following the star and aren't scheduled to arrive until Epiphany. The kids like to take turns moving the Wise Men around the house, pretending they're journeying across mantelpieces and credenzas on their convoluted path to Bethlehem. The Shepherds are there in the Nativity, though. They're patiently waiting with the animals. The angels are ready, too, hovering over the empty manger where Mary and Joseph are already kneeling. They all seem to have faith that Christ will arrive just as he always said he would. Every year, they're proven correct. Every year, without fail, it still feels to me like a miracle.
The Nativity scene before Christmas is odd because the figurines gather around an empty manger. They're focused on it, patiently expectant for the day the void will be filled. Not only is it strange that they're all staring at an empty space, but they're waiting for it to be filled by a human infant.
Mangers, of course, are not meant to hold human infants. They aren't cribs. They're meant to be filled with grain or hay because a manger is a feeding trough for animals. To expect anything other than animal feed to fill that empty space seems to me to be an act of extraordinary faith.
Even when the Christ-child appears on Christmas morning — as he always does — and rests in his place in the manger, the Nativity scene is no less strange. Jesus has taken the place of food. From the moment of his birth, out of the greatness of his love, He is ready and willing to be consumed, to be taken up like bread, broken, and turned into nourishment. There are tremendous spiritual implications to this fact, but let's consider the practical implications, the questions you and I might ask ourselves about the nature of our love for our family and our friends. Is this the cost of love? To be consumed?
Yes, this is the price. When we commit to each other, whether it be marriage, the bond of friendship, or the relationship of parent and child, that commitment places us right there in that manger. There we are consumed. We become a sacrifice. We become a gift.
It's almost unbelievable that people would live this way, that we would consent to marriage and family and raising children knowing that through these entanglements we are consenting to give our lives away, to live no longer for ourselves but for the sake of others. Even a glancing encounter with the virtue of love, even the most timid act of self-gift quickly reveals that opening our souls to another person is the very definition of human flourishing. And yet, for all that, it is no less a miracle.
There are certainly times when love for family, friends, or even humanity writ large consumes us to the point that we have nothing left to give. Love isn't easy. We have to be honest that it exacts a cost. The child in the manger is proof of that. The Advent candles burning down to stumps are proof of that.
Writing about the symbolism of candles reminds me of a letter Chiara Petrillo wrote to her son for his first birthday. Chiara Petrillo — if you don't know her story — was diagnosed with cancer while pregnant with her son. She refused treatment for the illness because the treatment may have harmed her child. Shortly after giving birth, she died. Before doing so, she wrote her son a letter in which she declared that she regretted nothing. She tells him love is the heart of existence, writing, "Love consumes you, but it is beautiful to die consumed, exactly like a candle that goes out only when it has reached its goal."This is what I see in the exhausted candles in our Advent wreath and in the Christ-child in his manger. I see a terrible beauty – the cost of love and the goal of our existence.
Gathering around the Christmas tree with my wife and six children, I realize that even though they sometimes exhaust me, even though they have brought to me many sleepless nights, anxieties, and fear for their future, even though they argue with and challenge me, I would be less than nothing without them. If the price to have them in my life is lying down in the manger next to Christ or making myself a candle, well, that can only make the flame shine more brightly.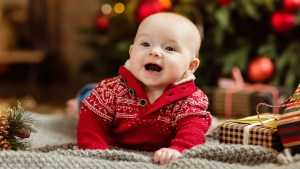 Read more:
10 Perfect Advent or Christmas names for a baby boy