The hospitals have updated policy to make patient's rights more clearly defined.
The Office for Civil Rights (OCR) at the Department of Health and Human Services (HHS) has announced the resolution of another religious discrimination complaint. The case arose in several locations of New York's Mt. Sinai Health System, which runs seven hospitals in the New York area. 
Catholic News Agency reportsthe complaint was filed by a Jewish advocacy group in August, when Jewish patients at several hospital locations reported they were denied access to a rabbi. In one instance, a Jewish man asked for a rabbi in order to procure Kosher food. This request was denied due to COVID-19 concerns.
The report cites a second instance where a Jewish patient's requested a "spiritual care volunteer" after giving birth to a stillborn baby. This too was denied because of COVID-19 precautions, even though the patient was not in a COVID-19 ward. 
The OCR said in a statement that its work with the hospitals clarified that clergy members are allowed access. OCR director Roger Severino said:
"We applaud the hospital for ensuring that it will treat the needs of the body without sacrificing the needs of the soul."
The hospital network has reportedly updated its policy's phrasing in order to clear up confusion in the future. The clarified stipulations allow for clergy members to come from out of state without quarantine in end-of-life cases. Although they won't be forced to quarantine, they will be expected to follow preventative measures, such as masks and distancing.
Read more at Catholic News Agency.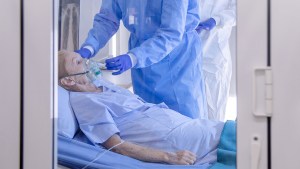 Read more:
Patients denied clergy visits because of COVID can now have them, according to HHS