This family's decision to choose life for their terminally ill baby has blessed so many people.
On the website of the Italian "Heart In A Drop" non-profit foundation (Fundazione Il cuore in una goccia onlus), an Italian mother has shared, through a video, the beautiful story of her son Samuel, who was born with Trisomy 18.
Manuela (only her first name is given) tells us with great serenity and sweetness how she and her husband welcomed this fragile life, and through this act, changed hearts and minds. Baby Samuel lived for 177 days after birth, surrounded by the love of his parents and siblings. 
Facing a diagnosis of Trisomy 18
Trisomy 18, also called Edwards' Syndrome, is a genetic disorder that affects about 1/6000 live births and consists of the presence in a baby's cells of an extra chromosome 18: three instead of two.
The incidence of this anomaly increases in proportion to the age of the mother. Most unborn babies with Trisomy 18 die in utero. 
The syndrome has a very low survival rate due to cardiac abnormalities, kidney malformations, and other complications affecting internal organs. Even if the baby survives the pregnancy, only 10% of children with the condition live to age 10.
Manuela, at 45 years old and already the mother of 5 children, discovered about two years ago—10 years after her previous pregnancy—that she was pregnant for the sixth time. The whole family immediately welcomed the news with joy and enthusiasm.
Given Manuela's age, her doctor convinced her to have an amniocentesis done, even though she intended to carry the pregnancy whatever the outcome. A couple of weeks later, she received a phone call from a doctor who told her that the baby had Trisomy 18. He encouraged her to go to the hospital immediately for an abortion.
Although disconcerted and shocked by the news, Manuela refused immediately. She responded that she had no intention of terminating the pregnancy by killing her unborn child.
Her reaction irritated the doctor, who initially thought that Manuela hadn't fully understood the gravity of what she had been told. In the face of Manuela's resoluteness, however, her doctor surrendered.
Manuela's OB-GYN also tried to convince her of the need to abort by pointing out that the child would be a "terminal" child, to which Manuela responded, "But if you were told that your child were terminally ill, what would you do? Would you kill him?"
The question made it clear to the doctor that an abortion was out of the question. Instead, her job would be to provide care during the pregnancy, which turned out to be absolutely straightforward and uncomplicated until the 42nd week.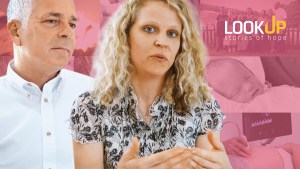 Read more:
One hour of life can change a family forever
Friends and family bitterly opposed the family's determination to carry the pregnancy to term. They described the couple harshly, calling them names like "kamikaze," "extremists," and "crazy." A close relative even said that the situation was a divine punishment for being willing to carry a pregnancy at such an advanced age.
Their son's life
Samuel was born naturally at full term, and was not of low weight as predicted; he was born weighing 8 pounds. Manuela, fearing that he would die as soon as he was born, as often happens in these cases, wanted him baptized as soon as possible.
She arranged for a priest to be with her at the moment of birth to administer baptism, and for the baby's godmother to be present as a witness. She asked the midwife not to cut the umbilical cord before the baby was baptized, because her fundamental objective was not only to give birth to the baby but also to make him a child of God.
Samuel's first 10 days of life were very peaceful. He was able to breathe on his own in a heated cradle and even drank milk from a bottle. On the 10th day, he received an exciting visit from his five siblings, who were eager to meet him. The visit was meaningful and beautiful. Samuel looked them all in the face, staring intently at them one by one.
The next day, however, his condition worsened and he was intubated. Even though he was going through critical moments, he held on, showing that he was strongly attached to life.
The attitude of the medical staff was initially marked by barely veiled reproach and disapproval towards the parents who gave birth to Samuel. Over time, however, their perspective changed. They realized how much deep love surrounded the child—so much so that one of the staff went so far as to say that the baby's survival was mainly due to the fact "that he feeds on love." Indeed, they said, "We should thank (Manuela) for introducing us to Samuel, for what he has taught us, for how he has fought to live."
For his siblings, too, this experience proved to be extremely positive. They became more autonomous and cooperative in the effort the whole family made to stay close to Samuel, who continued to struggle for six months.
Samuel's gifts
In the video, Manuela doesn't tell us about the moment of Samuel's passing. She's full of serenity and gratitude for the copious gifts that Samuel left behind during his short life, which she zealously treasures.
Having come into profound contact with him changed the consciences, hearts and attitudes of the healthcare workers who assisted him. Moreover, a close network of contacts was created with all the mothers who, during those months, lived in the hospital with children who were fighting to survive. These were, for Manuela, "all gifts from Samuel; they are his legacy, his gift for me."
The conclusion of the video interview is truly enlightening, full of the love and hope that only faith can give. Manuela says,
Even today Samuel is present in everything we do or say. He is with us. We talk to each other; he's present in our family, in a different way—he's not physically present but he's present in every other way. Love isn't broken apart, it's not as if it ends just because the dimension changes. It is just another dimension, but Samuel is there.
Read more:
Caring for a Child With Trisomy 18 was the Easy Part; Getting Doctors to Care Was Much Harder