This priest is using his long hospital stay as a time to grow closer to God.
What can God do in your life with one Bible verse a day?
Subscribe to Aleteia's new service and bring Scripture into your morning:
Just one verse each day.
Click to bring God's word to your inbox
While stories of bravery, tragedy, and heroism related to the COVID-19 pandemic have dominated our attention recently, examples of courage and holiness in the face of adversity continue to arise in other contexts as well. Such is the case of Fr. Marlon Mucio, well known by Brazilians for his charism, his evangelizing work, his willpower, and his love for the priesthood and the Eucharist.
He is now in an intensive care unit (ICU) because of complications of a rare disease he has been fighting for some time: riboflavin transporter deficiency neuronopathy. The disease affects nerve cells and causes symptoms such as great physical fatigue, weakness in the legs, severe apnea, intolerance to minimal physical exercise, serious respiratory problems, and great difficulty in performing daily activities of personal care. As a result, Fr. Marlon needs continuous help from mechanical ventilation to breathe, among other treatments and medical care.
Fr. Marlon had always been very active in social networks, but now it's his brother Paulo Gustavo who updates his profiles and informs his followers about Fr. Marlon's state of health.
Father Marlon and the beeping machines of the ICU
In one of his Instagram publications, Paulo Gustavo says he asked his brother how he could stand the endless beeping of the ICU machines and monitors. The priest's answer was deeply moving. He said, "The beeps of the ICU are like cathedral bells to me: They remind me that I'm a poor creature and urgently need to pray."
In the publication, the priest's brother explains that Fr. Marlon prays whenever he hears a beep. As these noises are constant in the ICU, we can infer that he's praying all the time. The post says:
Father Marlon is either praying Mass, the Liturgy of the Hours and the Rosary, or he's praying brief acclamations. Something beeped? "Jesus, I trust in you!" "Mary, go before me!" "Jesus, meek and humble of heart, make my heart more like yours," "O Mary, conceived without sin, pray for us, who have recourse to thee," "Lord, send your angels here …"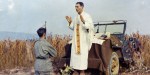 Read more:
These 5 Catholic priests earned the Medal of Honor


Healing strategy
For this reason, Fr. Marlon doesn't complain about the beeps of the machines. On the contrary; for him, the noise triggers a healing process. "[It's] a plan to save my soul, while here in the hospital they seek to save my body… I keep myself very busy, and this helps in my treatment."
Reading this, it's hard not to think of St. Thérèse's method for dealing with daily annoyances. Writing about how one of her religious sisters constantly made noises with her rosary in the chapel, the Carmelite saint wrote,
After a time I tried to endure it in peace and joy, at least deep down in my soul, and I strove to take actual pleasure in the disagreeable little noise. Instead of trying not to hear it, which was impossible, I set myself to listen, as though it had been some delightful music, and my meditation—which was not the "prayer of quiet"—was passed in offering this music to Our Lord.
While not exactly the same approach, it has the same spirit of transforming what could be an annoyance into an offering, an opportunity for prayer and for connecting with God.
Daily Masses
Even while in the ICU, Fr. Marlon has never stopped praying the Mass. He even asked not to be intubated, so that he could continue this sacred office. In fact, he has celebrated Mass every day for 20 years (including the past seven months in bed).
In a photo shared in Instagram on November 20, 2020, by the priest's brother, Fr. Marlon can be seen celebrating Mass in a hospital bed and connected to an oxygen mask. "My brother, Father Marlon, doing what he loves most in this life: celebrating Mass," Paulo Gustavo wrote in the post.
According to the post, the priest continues to pray for everyone and asks for our prayers as well.
Read more:
Priest gets permission to pray with the dying in the largest hospital in Latin America