If you're feeling too busy for Christ at Christmas, this short story might help.
"He's making a list, checking it twice …"
So go the lyrics to a popular (secular) Christmas song. As I write this, I know that many families are checking lists. "Do we need to get more food for Christmas dinner? Do we have the ingredients for eggnog? Did we remember to send cards to all the relatives? Where did you put that package that Amazon said it delivered yesterday?" On and on it goes…
When I think of Christmas and lists and memory, I hearken back to an event that happened to me just before Christmas, 40 years ago. It's an event that has stuck with me across the miles and the years, and has helped to reshape my perception of both the season and the practice of Christmas. As a sophomore in college, I stumbled upon a short story called "Eventide of the Feast," written by Lebanese author Kahlil Gibran. (I will pause for a moment to allow folks of a certain generation to cringe, because it became fashionable in the 1970s to read snippets of Gibran's writings at weddings. But really, Gibran has written works of power and substance.)
I don't want to give away the whole story, for that would cheat you of the blessing of discovering it for yourself. Yet I can say this much: Gibran's story is a poignant reminder of the awful fact that we can become so busy—so frenetically busy—getting ready to "celebrate" Christmas that we fail to remember Christ. Gibran writes:
The people are celebrating in My honor, pursuing the tradition woven by the ages around My name, but as to Myself, I am a stranger wandering from East to West upon the earth, and no one knows of Me. The foxes have their holes, and the birds of the skies their nests, but the Son of Man has no place to rest His head.
That point was brought home to me last week, when I was speaking with a very devout Catholic family. The oldest son said that the local Christmas tree vendor was in distress because the sale of trees was way down from previous years. The vendor told him, "Nobody's buying trees this year. People have told me, 'I can't have people at the house because of COVID restrictions—so why bother doing anything for Christmas?'"
That's sad for more reasons that I can reasonably summarize here. It may be trite to say something like, "Keep Christ in Christmas!" or "Jesus is the reason for the season!" but, clearly, it is also necessary.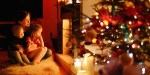 Read more:
5 Beautiful Christmas traditions and their origins


Whether one is Christian or not, alone or in company, bright-eyed or teary-eyed as the Christmas Season of 2020 begins, we would do well to recall an earlier and darker time. In the 5th century, Pope St. Leo the Great proved himself to be a man of faith by resisting heresies and a man of courage by confronting Attila the Hun and turning back his invasion of Italy. No stranger to suffering and conflict, St. Leo spoke these words in a Christmas sermon:
Dearly beloved, today our Savior is born; let us rejoice. Sadness should have no place on the birthday of life. The fear of death has been swallowed up; life brings us joy with the promises of eternal happiness. No one is shut out from this joy; all share the same reason for rejoicing.

Our Lord, victor over sin and death, finding no man free from sin, came to free us all. Let the saint rejoice as he sees the palm of victory at hand. Let the sinner be glad as he receives the offer of forgiveness. Let the pagan take courage as he is summoned to life.
Speaking as both a sinner (sorrowful, repentant, and forgiven) and as a shepherd of souls, I can testify that a Light has entered into the world that the world cannot extinguish. We are all called to share in the victory of Life and Love over death and evil, a victory whose beginning can be seen in a manger in Bethlehem.
In all of our Christmas "busy-ness," let's not overlook the One Who came to save us from ourselves. Forty years ago, reading that short story by Gibran woke me from the thoughtless routine of "Christmas is coming—time to get busy!" to the mindful awareness that "Christmas is coming—time to be grateful!"
My hope is that reading "Eventide of the Feast" will do the same for you.
When I write next, I will speak of preparing for a new year. Until then, let's keep each other in prayer.