The team took special care to recreate the wear from foot traffic.
Drawing on references in religious texts and relics, a team of Israeli archaeologists has recreated a panel of flooring of the Roman-period Jewish Temple. The work is being praised for its accuracy. It shows details that Jesus himself might have seen when he walked the earth more than 2,000 years-ago.
According to a report from Reuters, the project took seven months to complete. The result of the efforts is a one-square-meter panel of marble flooring. The panel incorporates several different types of stone, including limestone, Dead Sea stone, and imported marble. As the Temple is known to have been designed by King Herod, who followed Roman cultural trends, the stones were arranged in "Opus Sectile," a popular Roman style of the time.
The project took so long, archaeologist Assaf Avraham explained, because the team took special care to recreate the wear that would have appeared on the stone floor after years of foot traffic. He told Reuters:
"We even made the scratches and all kind of marks that created the same appearance as it used to look like at the time."
The floor would have been very familiar to Jesus, who visited the temple several times in the Gospels. He first walked the Temple halls as an adolescent, when he visited it to study the scriptures. The Gospel narratives return to the Temple later in Christ's life, when he threw out the money-changers who were operating in the confines of the sacred structure.
Avi Tavisal, manager of the team of artisans who helped complete the project, noted that it was "very tough work."
"But it was very interesting, and we made it with all our hearts," he said. "We hope that this will be something that the people can come and see and feel and touch and feel the feeling of how it was 2,000 years before."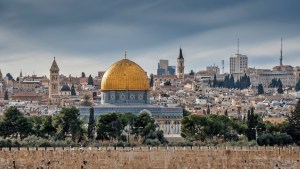 Read more:
Archaeologists uncover road to the Temple Mount, built by Pontius Pilate