The star leads the way to the newborn King, inviting all people to worship him.
Today is the twenty-fourth day in our set of meditations inspired by Jesse Tree Advent Tradition. (To see previous days, click here.)
The concept comes from a passage in Isaiah, where the prophet says, "There shall come forth a shoot from the stump of Jesse, and a branch shall grow out of his roots" (11:1). Jesse is the father of King David, and Jesus was born into that same line of David through his foster-father's (Joseph's) ancestry.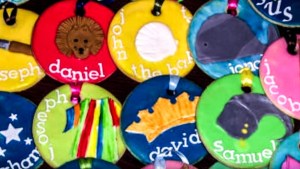 Read more:
Preparing for Christmas? Consider making a Jesse tree
Each day of December we will offer a brief Scripture passage and reflection, following God's marvelous plan of salvation in the Jesse Tree tradition.
Scripture
Behold, the star that they had seen at its rising preceded them, until it came and stopped over the place where the child was. They were overjoyed at seeing the star, and on entering the house they saw the child with Mary his mother. They prostrated themselves and did him homage. Then they opened their treasures and offered him gifts of gold, frankincense, and myrrh. And having been warned in a dream not to return to Herod, they departed for their country by another way.(Matthew 2:9-12)
Reflection
It is true to say that the light of Christ had already opened the minds and the hearts of the Magi. "They went their way" (Mt 2:9), says the Evangelist, setting out boldly along unknown paths on a long, and by no means easy, journey. They did not hesitate to leave everything behind in order to follow the star that they had seen in the East (cf Mt 2:2).

"And the star… went before them, till it came to rest over the place where the child was" (Mt 2:9). The Magi reached Bethlehem because they had obediently allowed themselves to be guided by the star. Indeed, "When they saw the star, they rejoiced exceedingly with great joy" (Mt 2:10). It is important, my dear friends, to learn to observe the signs with which God is calling us and guiding us. When we are conscious of being led by Him, our heart experiences authentic and deep joy as well as a powerful desire to meet Him and a persevering strength to follow Him obediently."And going into the house they saw the child with Mary his mother" (Mt 2:11). There is nothing extraordinary about this at first sight. Yet that Child was different from any other: He is the only Son of God, yet He emptied Himself of His glory (cf Phil 2:7) and came to earth to die on the Cross. He came down among us and became poor in order to reveal to us His divine glory, which we shall contemplate fully in heaven, our blessed home.Who could have invented a greater sign of love? We are left in awe before the mystery of a God who lowered himself to take on our human condition, to the point of giving His life for us on the Cross (cf Phil 2:6-8). In His poverty, – as Saint Paul reminds us – "though he was rich, yet for your sake he became poor, so that by his poverty you might become rich" (2 Cor 8:9), and came to offer salvation to sinners. How can we give thanks to God for such magnanimous goodness?(St. John Paul II, Message to Young People, 2005)
Prayer
Come quickly, we pray, Lord Jesus,
and do not delay,
that those who trust in your compassion
may find solace and relief in your coming.
Who live and reign with God the Father
in the unity of the Holy Spirit,
one God, for ever and ever.


---

To receive inspiring notifications during Advent download the Aleteia App. You'll get not only the Advent reflections for your daily life, but also the possibility to read Aleteia offline.

Our mobile app is free, fast, smooth, intuitive – we hope you'll like it, and that it will help you stay closer to the kind of stories that will raise your spirits.