Both the Holy Father and Cardinal Krajewski were wearing masks when they spoke briefly on Friday before the cardinal tested positive on Monday.
The Italian news agency ANSA reported that Pope Francis tested negative for Covid-19 on Monday, December 21, citing Vatican sources.
The test was administered after the pope's papal almoner — the cardinal who carries out his charity work in Rome and elsewhere — was admitted to Gemelli Hospital on Monday with Covid-related pneumonia.
That cardinal, Konrad Krajewski, 57, was among those who attended with the Holy Father on Friday, December 18, the final Advent homily preached by Cardinal Raniero Cantalamessa, preacher of the pontifical household.
The two spoke briefly before the meditation, given in the chapel of the apostolic palace, America Magazine reported. Both were wearing masks when they spoke.
They might also have had contact the day before, the pope's birthday, as it was through the cardinal that poor and homeless of the City of Rome offered the Holy Father a bouquet of sunflowers for his 84th birthday.
Cardinal Giuseppe Bertello, 78, president of the governorate of the Vatican City State, also tested positive for Covid-19, but is not in the hospital. He's isolating in his apartment.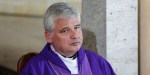 Read more:
Pope's cardinal for charity work is hospitalized with Covid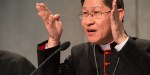 Read more:
Don't put off doing good, urges Cardinal Tagle, reflecting on his COVID experience