The pope's No. 2, the secretary of state, had a virtual meeting with Bambino Gesù Children's Hospital to share the pope's Christmas greetings.
You can get Aleteia inspiration and news in your inbox. Our specially curated newsletter is sent each morning. The best part? It's free.
Sign up here
"Prayer is stronger than the virus."
Cardinal Pietro Parolin, the pope's secretary of state, assured patients and staff at the Vatican's Bambino Gesù Children's Hospital of this. "These are the words written by one of you," he said. "They are written on a drawing that I keep in my study."
Cardinal Parolin visited the Children's Hospital on Tuesday afternoon. He was welcomed by Hospital President Mariella Enoc and was able to connect virtually with the rest of the community, which was following online.
"We thank God," said the Cardinal, looking into the computer monitors at the doctors, nurses, religious watching via the web, "for these means that allow us to stay in touch despite the pandemic."
He expressed his regret that limitations put in place to curb infections have impacted and reduced the possibilities of face-to-face meetings, but said he would have been sorry "not to be able to renew this traditional meeting."
"I greet and embrace each of you who are connected and I also bring the greeting and embrace of Pope Francis," he said.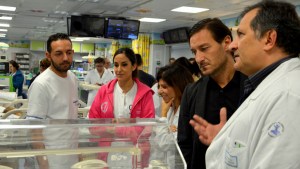 Read more:
IBM to collaborate with Rome's Bambino Gesu Hospital to help fight childhood cancer