When a first-time altar server did something unusual, he gave his pastor a new understanding of Christ's love.
Need an idea for Lenten almsgiving?
Help us spread faith on the internet. Would you consider donating just $10, so we can continue creating free, uplifting content?
Make a Lenten donation here
When Fr. José Rodrigo López Cepeda had been ordained a priest for six months, his bishop sent him to exercise his ministry at the parish of the Shrine of St. Orosia, in Spain. Fr. José replaced a priest who had been the pastor there for nearly 30 years.
At the beginning, it was not easy for the young priest, because the people were accustomed to their former long-term pastor and his way of doing things. Fr. José says that "although the task was hard, it was fruitful, and it wouldn't have been so fruitful afterwards without the help of a little boy named Gabriel." The priest shared the story on Facebook earlier this year, and it is well worth reading.
Little Gabriel
The second week that Fr. José was at the parish, a young couple went to talk with him, along with their eight-year-old son Gabriel, a boy with certain challenges whom Fr. José describes as "special in every way."
Gabriel's parents asked the new pastor to take on their son as an altar server. At first, the priest hesitated –- not because of any limitations the boy might have, but because he was already overwhelmed by all the difficulties he was facing in taking over leadership of the parish.
The little boy had a "secret weapon," however, to win over the priest's heart. When Fr. José asked him if he wanted to be an altar server, instead of responding verbally, he hugged the priest around the waist (as high as the little boy could reach). How could he say "no?"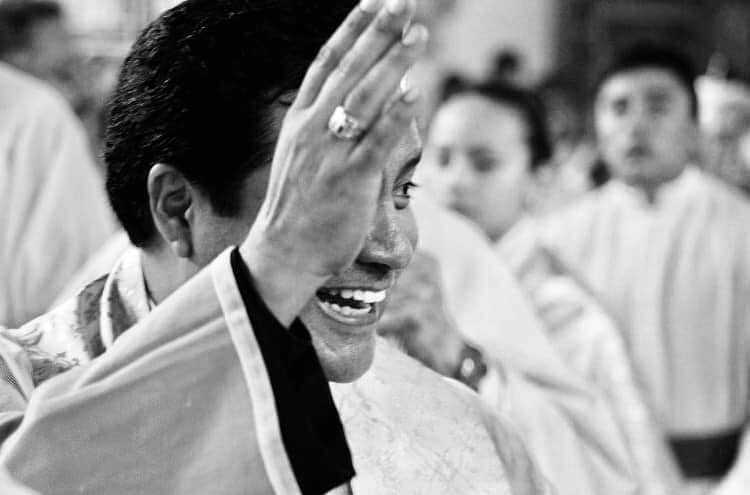 Gabriel's first Mass as an altar server
Fr. José told the boy to come to Mass 15 minutes early the following Sunday so he could be on time to serve at the altar for the first time. Gabriel arrived punctually –- along with his entire family, who were looking forward to seeing him serving Mass. He wore his red cassock and white surplice with lace borders made by his grandmother. His family noticeably increased the size of the congregation! Fr. José describes what happened next.
I had to prepare everything necessary for the Eucharist. I didn't have a sacristan or bell ringer, so I had to run back and forth, and it wasn't until Mass was about to begin that I realized that Gabriel didn't know anything about how to help. As time was short, I got the idea of telling him, "Gabriel, you have to do whatever I do, OK?"
Gabriel was a very obedient little boy, and very literal. When Mass began and the priest kissed the altar, the boy did it too. When the time came for the homily, Fr. José noticed that everyone was smiling and paying attention –- but not to him; they were looking at the cute little altar server, who was obediently doing his best to imitate the priest's every gesture.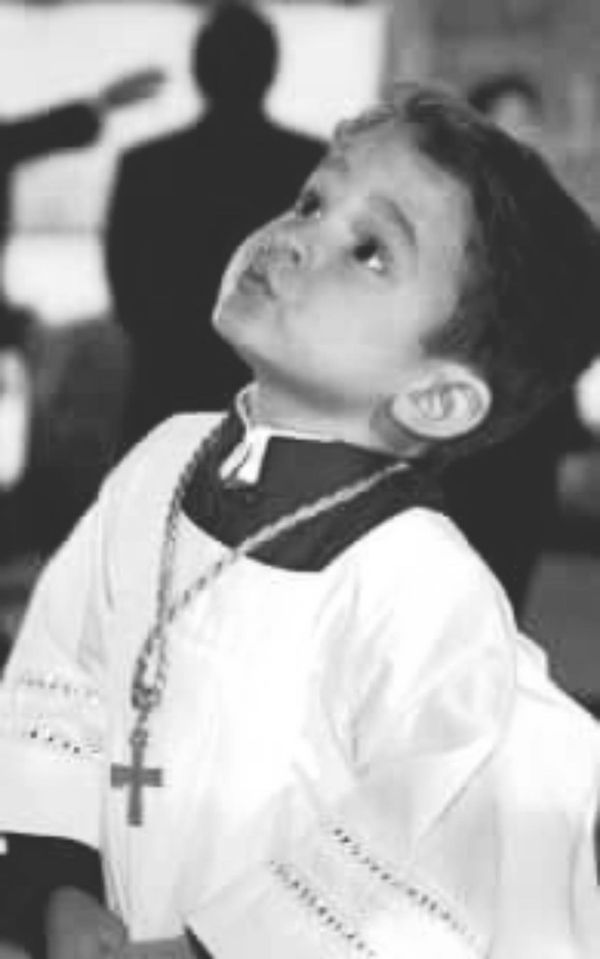 The kiss
After Mass, Fr. José recounts, he told Gabriel what he should and shouldn't do during the Mass. Among other things, he clarified that kissing the altar was a gesture reserved for the priest; the altar represents Christ, and the priest, while performing the sacrament, is joined in a special way to Him.
"He looked at me with his big questioning eyes, without understanding fully the explanation I was giving him," Fr. José writes. Although Gabriel was obedient, he was also frank, and didn't hesitate to say, "Come on, I want to kiss it, too." Repeated explanations didn't help change the boy's desire to kiss the altar, but in the end, Fr. José said that he'd kiss the altar "for both of them." The boy seemed to accept this solution, at least for the moment.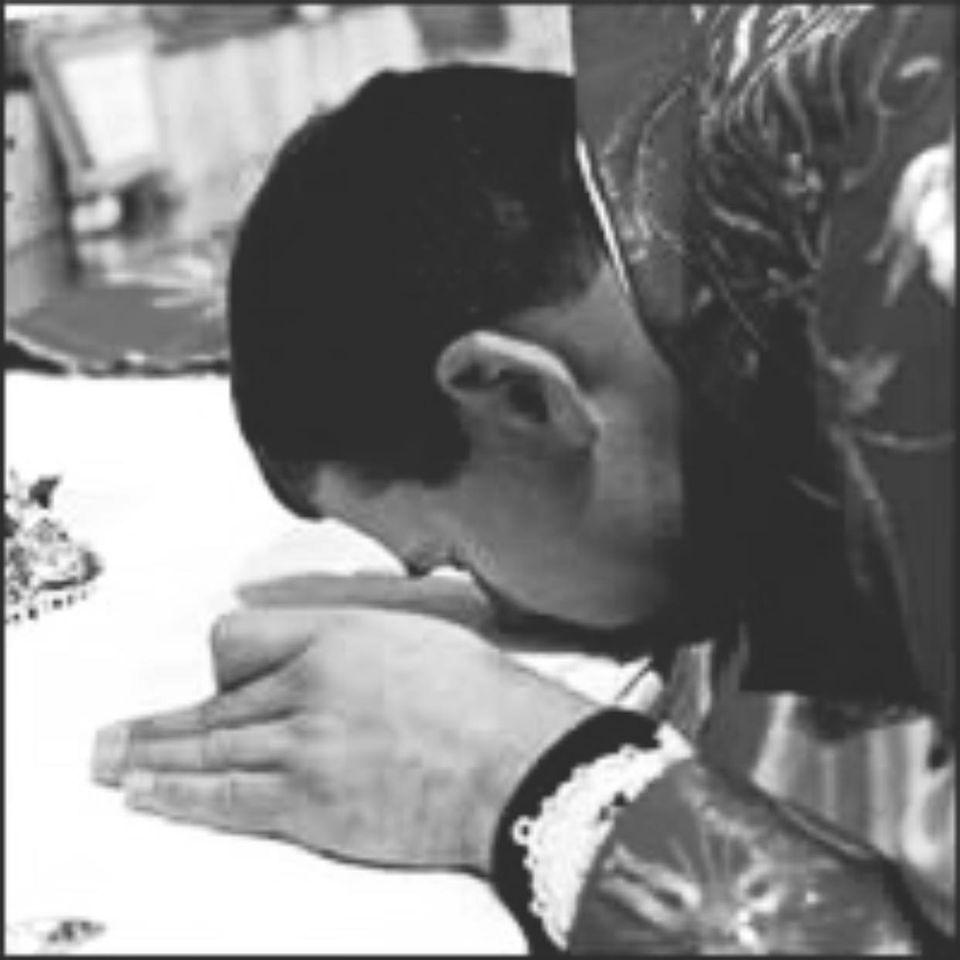 "It kissed me"
The next Sunday when Mass began, the priest kissed the altar and watched to see what the boy would do. Gabriel didn't kiss the altar with him; instead, he pressed his cheek against the altar and stayed there "with a big smile on his little face" until Fr. José told him to stop.
After Mass, the pastor went back over the instructions with the boy, reminding him that he was not to kiss the altar, and that the priest was doing it "for them both." The boy's answer caught him by surprise: "I didn't kiss it; it kissed me." Taken aback, Fr. José said, "Gabriel, stop playing games with me." The boy didn't back down. "It's true!" he said. "He filled me with kisses."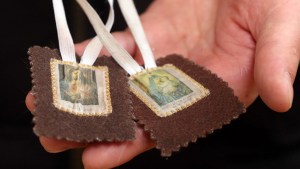 Read more:
This priest was saved from a bullet by wearing his Brown Scapular
What beautiful simplicity! Hearing this, it's hard not to remember Jesus' words about children, recorded by St. Matthew the Evangelist:
"At that time Jesus said, "I thank you, Father, Lord of heaven and earth, because you have hidden these things from the wise and the intelligent and have revealed them to infants…" (Mt 11:25) "Unless you change and become like children, you will never enter the kingdom of heaven." (Mt 18:3) "Jesus said to them, 'Out of the mouths of infants and nursing babies you have prepared praise for yourself.'" (Mt 21:16)
Fr. José says that Gabriel's words filled him with "holy jealousy." He wanted kisses, too! So, after everyone had left, he closed up the church, went to the altar, and imitated his little altar server. He put his cheek against the altar and prayed, "Lord, kiss me like you kissed Gabriel."
Letting yourself be loved by Jesus first
In his publication, Fr. José says that little Gabriel taught him the importance of letting himself be loved by Jesus first, and of keeping himself closely united to Him during difficult times. He says,
That boy reminded me that the work wasn't mine, and that winning the heart of those people could only take place based on that sweet intimacy with Christ, the only Priest.
Since then, he explains, every time he kisses the altar, he rests his cheek on it also "to receive his kiss," because "with my beloved altar server and teacher Gabriel, I learned that before kissing the altar of Christ, I need to be kissed by Him."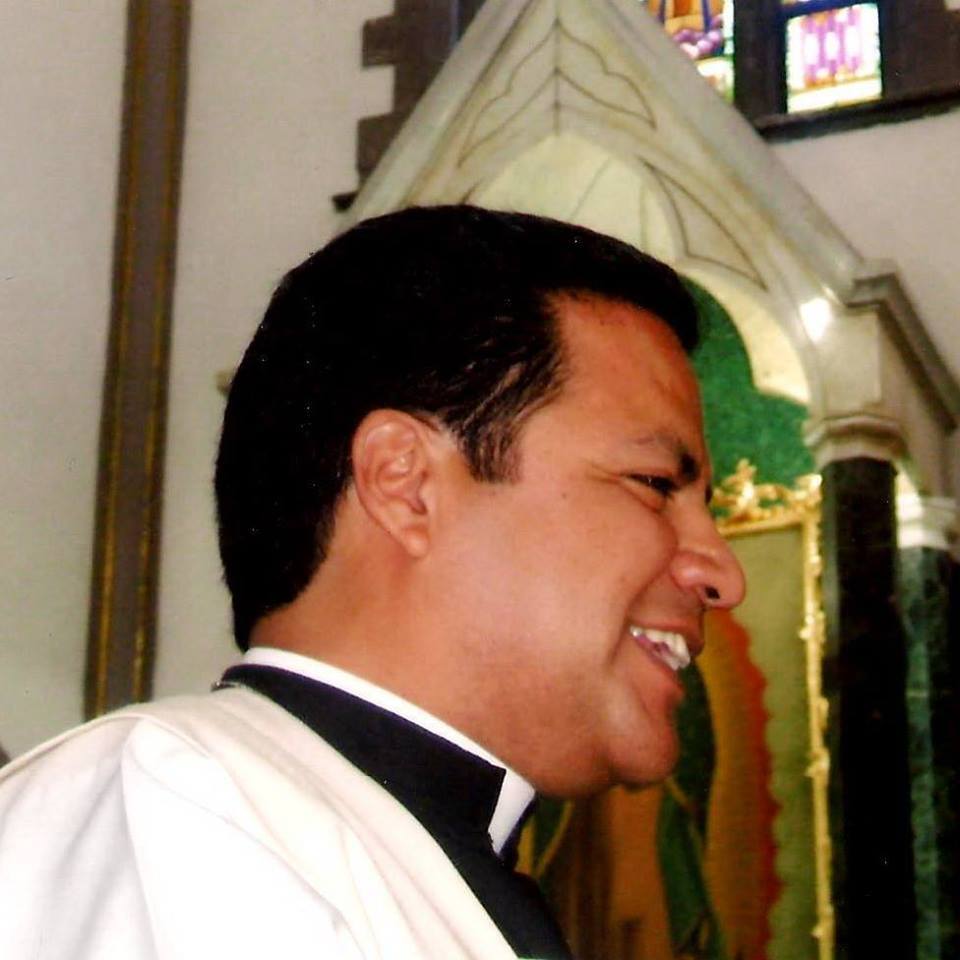 Today, Gabriel is 25 years old and still lives in the same town. Fr. López Cepeda now exercises his priestly ministry in Mexico (his home country), and hasn't been back to Spain since 2010. The last time he went, he said hello to his friend, who was then an adolescent. Despite the distance, they share the memory of that beautiful story in which Christ was and will always be the main protagonist.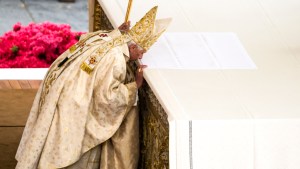 Read more:
This is why the priest kisses the altar at Mass