The Catholic version of the 12 Days of Christmas begins with the feast of St. Stephen.
Over time there grew a tradition called the Twelve Days of Christmas, celebrating the 12 separate feasts after Christmas and ending on January 6, Epiphany.
This is different than the tradition that began in England in 1780 with the popular carol called "The Twelve Days of Christmas," in which the days are numbered beginning with Christmas Day and ending on January 5, Twelfth Night, the eve of the Epiphany.
Renewing this tradition, for the next 12 days we will offer a short reflection and a prayer to help you extend the celebration of Christmas.
Reflection
Yesterday we celebrated the birth in time of our eternal King. Today we celebrate the triumphant suffering of his soldier.Yesterday our king, clothed in his robe of flesh, left his place in the virgin's womb and graciously visited the world. Today his soldier leaves the tabernacle of his body and goes triumphantly to heaven.Our king, despite his exalted majesty, came in humility for our sake; yet he did not come empty-handed. He brought his soldiers a great gift that not only enriched them but also made them unconquerable in battle, for it was the gift of love, which was to bring men to share in his divinity. He gave of his bounty, yet without any loss to himself. In a marvelous way he changed into wealth the poverty of his faithful followers while remaining in full possession of his own inexhaustible riches.And so the love that brought Christ from heaven to earth raised Stephen from earth to heaven; shown first in the king, it later shone forth in his soldier. Love was Stephen's weapon by which he gained every battle, and so won the crown signified by his name. His love of God kept him from yielding to the ferocious mob; his love for his neighbor made him pray for those who were stoning him. Love inspired him to reprove those who erred, to make them amend; love led him to pray for those who stoned him, to save them from punishment. Strengthened by the power of his love, he overcame the raging cruelty of Saul and won his persecutor on earth as his companion in heaven. In his holy and tireless love he longed to gain by prayer those whom he could not convert by admonition. (A sermon of St Fulgentius of Ruspe)
Prayer
Grant, Lord, we pray,that we may imitate what we worship,and so learn to love even our enemies,for we celebrate the heavenly birthdayof a man who knew how to pray even for his persecutors.Through our Lord Jesus Christ, your Son,who lives and reigns with you in the unity of the Holy Spirit,one God, for ever and ever.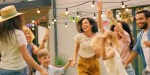 Read more:
The day every family should celebrate right after Christmas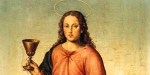 Read more:
Here's how to get your wine blessed on the feast of St. John