One look at Philippe Casanova's paintings elicits an understanding of the phrase "universal beauty."
There is a certain universal beauty to art of the Baroque period that was lost in the modern art movement. This is the driving belief of Philippe Casanova, an artist who has spent the majority of his career bringing Baroque art back into fashion.
It was 25 years ago that Casanova began emulating the artistic styles of Italian Baroque painting. Now his pieces are featured in museums from Rome to Paris, with commissions coming in from all over the world. What started as an infatuation with the brilliant art of Rome's famed Church of the Gesù turned into a lifelong vocation to the Baroque style. In an interview with NCR's Solène Tadié, Casanova said of the church:
"This art literally bowled me over, as it completely responded to my quest for aesthetics and to my religious aspirations better than any other artistic expression."
Casanova's artistic style, prominently featured in the video above, is a marvel to see. The painter's use of light in his paintings creates a breathtaking realism, but it has symbolic elements. Tadié noted that Casanova's use of light "reflects the double and paradoxical dimension of the human condition." The paradox being man's propensity for chaos and evil, placed against the promise of divine resurrection.
Inspired by the saints
Philippe finds inspiration for his grand works through his faith and from the saints. In the interview, he especially notes St. Philip Neri, a famed Italian saint who was a consummate patron of the arts. Casanova credited St. Neri's intercession with several of his greatest works, while noting that he often takes a pilgrimage through the Seven Pilgrim Churches of Rome, a tradition which St. Neri himself started.
Casanova believes that the beauty of Baroque art is just what the world needs to help it through the world pandemic. He said:
"When the world sinks into times of crisis and tribulations, heaven always invites itself on earth to inflame human souls and hearts, showing them the infinite beauty of creation, calling them to celebrate the glory of God," he said. "This message [that] I want to express through my paintings makes invocation to the Holy Spirit indispensable; prayer is never absent from my work."
Read more about Casanova's modern Baroque art at National Catholic Register.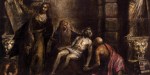 Read more:
Renaissance and Baroque masterpieces inspired by the plague