Mary, our Mother in Faith, lived a similar experience to Abraham, our Father in Faith -- and they both have a message for OUR faith after 2020.
On the final Sunday of Advent, a priest at our parish (a visiting priest from Nigeria, incidentally, whose homilies are always straightforward yet theologically rich) made note of something in the Gospel narrative that, despite how obvious and powerful it is, I had never really thought much about before. And as Christmas arrives and the fraught year of 2020 comes to a close, it sheds considerable light on the biblical meaning of faith.
Mary, he remarked, accepts the angel Gabriel's invitation to become the mother of God by the power of the Holy Spirit. But she was betrothed to a man called Joseph—and the outside world's reading of this situation would be that this woman has just committed adultery and become pregnant. The penalty for such an offense at that time, according to the Mosaic Law, was death by stoning. 
Another verse in Matthew about Joseph's own reaction underscores this point: "Her husband Joseph, being a righteous man and unwilling to expose her to public disgrace, planned to dismiss her quietly" (Matt. 1:19). Did Joseph think—before his own angelic visitation—that Mary had committed adultery? Or did he plan to dismiss her out of humility, given she was the Virgin Mother of the Messiah? St. Augustine inclines toward the former and more common-sense reading of the text: "Joseph, being a just man, with great mercy spared his wife, in this great crime of which he suspected her." But whatever Joseph's perspective, this verse reminds us that, as John Chrysostom writes, Mary "was liable not only to dismissal, but to death." 
Yet Mary still said yes to the angel's invitation; still, she trusted. The Annunciation, which was already the hinge moment in all of salvation history, becomes all the more remarkable in this: that even though, as far as she could see, that yes would very likely result in the loss not just of her own life, but paradoxically, the new life of the Messiah in her womb—still, she had faith.
Believing the preposterous
I was almost immediately struck by how much this situation of Mary—who is so often looked to by Christians as our mother in faith—resembled that of Abraham, our "father in faith" (Rom. 4:16), in the famous story of the akeda (binding) of Isaac. God had promised Abraham that he will be the "ancestor of a multitude of nations" through a son born of his barren wife Sarah (Gen. 17). But then God later asks Abraham to go into the land of Moriah and sacrifice that very son, Isaac, as a burnt offering, and just as he raises the knife, an angel intervenes to stop him. Abraham was not just being asked to kill his son—as horrific as that is—but to apparently extinguish the very promise God had made to him, to forfeit the deepest meaning of his being. Kierkegaard wrote an entire book on the faith of Abraham in this story titled Fear and Trembling. Reflecting on its meaning, he writes: "So all was lost—more dreadfully than if it had never come to pass! . . . Yet Abraham believed and did not doubt, he believed the preposterous." And just as he raises the knife, an angel intervenes to stop him.
Mary in the hills of Judea is the new Abraham in the mountains of Moriah. Threatened with the possibility of being stoned to death—as horrific as that is—she is also faced with the confounding possibility that God's own messianic operation would self-destruct before it even got off the ground; that all might very well be lost—and "more dreadfully than if it had never come to pass!" Yet she goes on in Abrahamic faith; she reflects his great promise of parentage and even speaks of him directly in her beautiful song of praise: "Surely, from now on all generations will call me blessed. . . . He has helped his servant Israel, in remembrance of his mercy, according to the promise he made to our ancestors, to Abraham and to his descendants forever" (Luke 1:48, 54-55). In her case, too, an angel intervenes—but this time it is Joseph's hand the angel seizes, just as he raises the knife of dismissal. 
Dostoevsky once said: "If someone proved to me that Christ is outside the truth and that in reality the truth were outside of Christ, then I should prefer to remain with Christ rather than with the truth." Fortunately, we don't ever have to make that choice—Christ is the truth, and all truth leads to him—but nevertheless, the thought experiment clarifies the Marian and Abrahamic drama of belief. Mary and Abraham, at precisely their highest expressions of it, reveal that faith is a deep and abiding trust that goes beyond reason. Christian faith is not, pace Kierkegaard, an irrational "leap" into the dark; it is reasonable. Christians ought to study apologetics and the arguments for God's existence, and Catholics in particular ought to immerse themselves in our longstanding tradition of harmonizing fides et ratio. Nevertheless, these two stories remind us that the experience of that trust in its visceral forms can also take us far beyond what feels comfortable or sensible, out into difficult and even paradoxical spaces.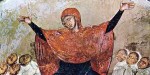 Read more:
What does Rachel "weeping for her children" have to do with the Innocents, or with Mary?


Without seeing clearly
In fact, both Mary and Abraham point ahead to yet another hill: Golgotha. The great obedience of Israel that they demonstrate is perfected in Christ, who is "obedient to the point of death—even death on a cross" (Phil. 2:8). And there, we encounter perhaps the greatest paradox of all: God himself, for our sake, is obedient even unto the experience of godforsakenness. Christ himself utters a phrase in which, as G.K. Chesterton observed, "God seemed for an instant to be an atheist": "My God, my God, why have you forsaken me?" (Matt. 27:46). 
2020 was a very trying year for our world, our country, and our Church. Fear and suspicion, rage and polarization, sickness and death, scandal and corruption, unrest and violence—the great macro story of this year's upheaval suggests thousands upon thousands of micro crises for families and individuals. Many have likely experienced not only a loss of stability or work or life—as horrific as these are—but a loss of bearings, a loss of purpose, or even a loss of faith. How does one in the midst of a maelstrom see the providential care of an all-knowing, all-loving, and all-powerful God? 
But these stories of Mary and Abraham offer a profound message to those reeling in confusion from this year: that we don't always need to see it clearly; that God is faithful to his promises, even when, to all intents and purposes, the very opposite seems to be the case; that to have faith is to trust in God, even when it feels absurd. Thus, to be a believing Christian means, ultimately, to "walk by faith, not by sight" (2 Cor. 5:7); to always place our trust not in the world, ourselves, or the devil and his empty promises, but firmly in Christ and his Church. That is a radical and challenging message for a world that prides itself on its own strength; but it is a message of hope to those who suddenly find themselves walking in darkness—and not a false hope, but a hope grounded in the firm truth of God and his love. It is then that the light of faith may just shine brightest, and guides us—just as surely as it guided Mary and Abraham—to the God who is faithful.


Read more:
5 things you probably didn't know about Sarah, Abraham's wife