Christmas continues with the celebration of St. John the Evangelist on December 27.
This is the second day in our series on the 12 Days of Christmas. (To see previous days, click here.)
From now through January 6, we will offer a short reflection and a prayer to help you extend the celebration of Christmas.
Reflection
Life itself was therefore revealed in the flesh. In this way what was visible to the heart alone could become visible also to the eye, and so heal men's hearts. For the Word is visible to the heart alone, while flesh is visible to bodily eyes as well. We already possessed the means to see the flesh, but we had no means of seeing the Word. The Word was made flesh so that we could see it, to heal the part of us by which we could see the Word.John continues: And we are witnesses and we proclaim to you that eternal life which was with the Father and has been revealed among us – one might say more simply "revealed to us."We proclaim to you what we have heard and seen. Make sure that you grasp the meaning of these words. The disciples saw our Lord in the flesh, face to face; they heard the words he spoke, and in turn they proclaimed the message to us. So we also have heard, although we have not seen.Are we then less favoured than those who both saw and heard? If that were so, why should John add: so that you too may have fellowship with us? They saw, and we have not seen; yet we have fellowship with them, because we and they share the same faith.And our fellowship is with God the Father and Jesus Christ his Son. And we write this to you to make your joy complete – complete in that fellowship, in that love and in that unity.(From tractates on the first letter of John by Saint Augustine, bishop)
Prayer
O God, who through the blessed Apostle John
have unlocked for us the secrets of your Word,
grant, we pray,
that we may grasp with proper understanding
what he has so marvelously brought to our ears.
Through our Lord Jesus Christ, your Son,
who lives and reigns with you in the unity of the Holy Spirit,
one God, for ever and ever.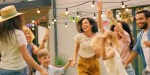 Read more:
The day every family should celebrate right after Christmas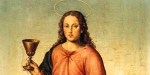 Read more:
Here's how to get your wine blessed on the feast of St. John