Christmas has always been a "feast of lights," reminding us that Jesus is the "light of the world."
In the Western world, Christmas trees and houses are often lit by electric lights during the darkest time of the year. While this tradition has become commercialized and is practiced by Christians and non-Christians alike, it is rooted in a Christian understanding of who Jesus is.
In the early Church, Jesus was often depicted as Sol Invictus, the "Unconquered Sun." Meanwhile, December 25 was known in the pagan world as the Dies Natalis Solis Invicti (Birthday of the Unconquered Sun).
St. Augustine makes reference to this symbolism in one of his sermons, "Let us celebrate this day as a feast not for the sake of this sun, which is beheld by non-believers as much as by ourselves, but for the sake of him who created the sun."
The symbolism of light is clear in the Gospel of John, which makes an explicit connection between the arrival of Jesus and the coming of light into the world.
What came to be through him was life,and this life was the light of the human race;the light shines in the darkness,and the darkness has not overcome it. (John 1:3-5)
St. John Paul II offered a brief commentary on this symbolism during a homily for the feast of the Epiphany in 2002.
The theme of light dominates the Solemnities of Christmas and Epiphany that in the first centuries – and still today in the East – were celebrated together in a single great "feast of lights." The light appears in the warm intimacy of the Holy Night of Christmas Eve; Christ, the Light of humanity, is born. He is the "sun that shall dawn upon us from on high" (Lk 1,78). He is the sun that came into the world to dispel the darkness of evil and flood it with the splendour of divine love. John the Evangelist writes: "The true light that enlightens every man came into the world" (Jn 1,9).
Furthermore, St. John Paul II explains how the external lights of Christmas remind us of the interior light of Jesus that gives meaning to our lives.
In becoming flesh, the Son of God was manifested as light.He is not just an external light in the history of the world, but a light within the human person, in his personal history. He became one of us, giving infinite meaning and immortality to our earthly existence. Thus, with full respect for human freedom, Christ became "lux mundi – the light of the world". He is the light that shines in the darkness (cf. Jn 1,5).
As we admire the lights of the Christmas season, may we never forget the true light who came on Christmas Day and continues to guide us in the darkness of this world.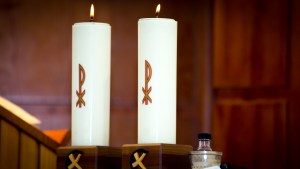 Read more:
Why do Catholics use candles at Mass?
Read more:
The pre-dawn Advent Mass that hundreds of young people flock to