One little boy's initiative helped his family find a place to live and brought his sister home.
This photo of a boy with a poinsettia might not seem extraordinary, but there's quite a story behind it.
https://www.instagram.com/p/CIyqQWkhLat/
The boy's name is Aaron Moreno, and he's 8 years old. The poinsettia he's holding isn't one his mother brought home to decorate the house for Christmas. It's one he's selling. He started his own business selling plants in Los Angeles.
The story began earlier this year, when his mother lost her job because of the pandemic, according to ABC11. They were already in a financially precarious situation: Aaron's older sister had been sent back to Mexico in 2018 to live with her grandparents because their single mom, Bernice Pacheco, couldn't provide for all three of her children (Aaron also has a younger sister). The text on their GoFundMe page mentions that they even ended up homeless, living in shelters and "bouncing from house to house" until they were allowed to stay in a relative's shed.
In June this year, the situation got so bad that Aaron decided to start a business selling plants to help his mom support the family. He hoped to make it possible to bring his older sister back home from Mexico.
At first, he bought plants in bulk in the downtown Los Angeles and took them with his mother to resell at various places in the city. He called the business "Aaron's Garden."
It was hard work, as they had no vehicle of their own. They had to carry the plants in their hands on public transportation. Fortunately, the boy's initiative met with unexpected success.
By June 24, he had an Instagram account (with his mother's help, of course) that he used to start announcing what plants he was selling. Providers started bringing him plants to sell.
https://www.instagram.com/p/CB1LhMgjg65/
On July 13, inspired by Aaron's initiative and hard work, a friend of the family started a GoFundMe campaign, and Aaron's Garden started to get media attention as well.
https://www.instagram.com/p/CGGPsMMhQNU/
"People support us by buying plants, following us, leaving us good comments, and they tell us nice things to keep moving forward. It's what we need," Aaron told local TV station NBC 4 on July 23.
All the hard work paid off. The GoFundMe campaign had an initial goal of $1,000, but it's raised nearly $70,000. Meanwhile the plant business has continued, although restrictions due to COVID-19 have made it harder for Aaron to get plants and have limited the times when he can sell.
Thanks to both the business and the kindness of donors, the family has left behind the shed where they were living. The ABC11 report from December 10 brought good news: The family has now moved into their own home, have bought a car, and yes, Aaron's sister Ayleen has come back from Mexico!
"I'm just so proud of my brother because he was the one who got me back," she told ABC.
https://www.instagram.com/p/CF0qg1uhSTO/
The garage at the house where they now live is the new point of sale for Aaron's garden.
Perhaps we could say that, after hitting bottom earlier this year, the family has found new life. It's true in a special way for Aaron: On his Aaron's Garden Instagram account, he recently shared a photo of his Baptism, the sacrament that gives us new life in God's grace. Due to the pandemic, it was a private ceremony with just the priest, immediate family, and his godparents present.
https://www.instagram.com/p/CIwgKD0B4YT/
Congratulations, Aaron!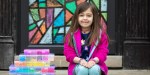 Read more:
Resourceful girl uses simple craft to raise $14,000 (and counting!) for COVID supplies