The original sculptures were designed in homage to St. Francis' living Nativity scene of 1223.
The figurines of the world's oldest known Nativity scene are on display at one of Rome's oldest churches. The Basilica of St. Mary Major has housed the pieces since they were commissioned in 1292 by Pope Nicholas IV. This year the pieces were brought up from the Chapel of the Nativity to be displayed next to the altar in the upper church.
In 1291 Pope Nicholas IV commissioned to Arnolfo di Cambio the first permanent Nativity scene. The figures are rendered with intense emotion, so that the pilgrim might imagine being present at the moment Jesus was born. #VisitRomepic.twitter.com/b6KrJd9Sxl

— Turismo Roma (@Turismoromaweb) December 19, 2018
According to Catholic News Agency, the marble figures were sculpted by Arnolfo di Cambio in the late 13th century. The report notes the statues of St. Joseph, the three Magi, and a single figure featuring a cow and donkey are originals. The piece depicting the Madonna and Child, however, underwent renovations in the 16th century. Experts are unsure as to how many figurines the set originally included.
St. Mary Major's scene is not the oldest depiction of the Nativity, as frescoes and mosaics have featured such images for over a thousand years. It is, however, the first Nativity scene in modern form, using sculpted figures. The popularity of this Nativity scene helped develop the tradition in other churches, and eventually led to the personal Nativity scenes we set up in our homes today.
A homage to St. Francis
It is fitting that this scene was commissioned by Pope Nicholas IV, as he was the first Franciscan pope. By ordering the creation of these marble statues, he honored the founder of his order, St. Francis, who was the first to organize a Nativity scene in 1223. St. Francis of Assisi's was considered a "living" Nativity scene. He used real people in place of sculpted figures to present a tableau of the Nativity to the Italian town of Greccio.
The oldest Nativity scene will remain on display at St. Mary Major's throughout the Christmas season. Also on display at St. Mary Major's are relics of Christ's manger, sent from Bethlehem by St. Sophronius, as well as relics of St. Jerome.
Learn more about the relics at the Basilica of St. Mary Major at CNA.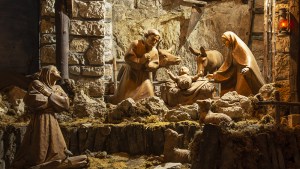 Read more:
St. Francis' reenactment of Christmas was the first Nativity scene