The birth of Jesus also marks our own birth in the life of faith.
This is the sixth day in our series on the 12 Days of Christmas. (To see previous days, click here.)
For the next 12 days we will offer a short reflection and a prayer to help you extend the celebration of Christmas.
Reflection
God's Son did not disdain to become a baby. Although with the passing of the years he moved from infancy to maturity, and although with the triumph of his passion and resurrection all the actions of humility which he undertook for us were finished, still today's festival renews for us the holy childhood of Jesus born of the Virgin Mary. In adoring the birth of our Savior, we find we are celebrating the commencement of our own life, for the birth of Christ is the source of life for Christian folk, and the birthday of the Head is the birthday of the body.Every individual that is called has his own place, and all the sons of the Church are separated from one another by intervals of time. Nevertheless, just as the entire body of the faithful is born in the font of baptism, crucified with Christ in his passion, raised again in his resurrection, and placed at the Father's right hand in his ascension, so with Him are they born in this nativity.For this is true of any believer in whatever part of the world, that once he is reborn in Christ he abandons the old paths of his original nature and passes into a new man by being reborn. He is no longer counted as part of his earthly father's stock but among the seed of the Savior, who became the Son of man in order that we might have the power to be the sons of God.For unless He came down to us in this humiliation, no one could reach his presence by any merits of his own.(From a sermon of Saint Leo the Great, pope)
Prayer
Grant, we pray, almighty God,
that the newness of the Nativity in the flesh
of your Only Begotten Son may set us free,
for ancient servitude holds us bound
beneath the yoke of sin.
Through our Lord Jesus Christ, your Son,
who lives and reigns with you in the unity of the Holy Spirit,
one God, for ever and ever.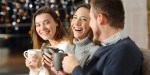 Read more:
How our family celebrates all 12 days of Christmas