We reflect today on the beauty of Mary's role in the Incarnation.
This is the seventh day in our series on the 12 Days of Christmas. (To see previous days, click here.)
For the next 12 days we will offer a short reflection and a prayer to help you extend the celebration of Christmas.
Reflection
The Word took to himself the sons of Abraham, says the Apostle, and so had to be like his brothers in all things. He had then to take a body like ours. This explains the fact of Mary's presence: she is to provide him with a body of his own, to be offered for our sake. Scripture records her giving birth, and says: She wrapped him in swaddling clothes. Her breasts, which fed him, were called blessed. Sacrifice was offered because the child was her firstborn. Gabriel used careful and prudent language when he announced his birth. He did not speak of "what will be born in you" to avoid the impression that a body would be introduced into her womb from outside; he spoke of "what will be born from you," so that we might know by faith that her child originated within her and from her.By taking our nature and offering it in sacrifice, the Word was to destroy it completely and then invest it with his own nature, and so prompt the Apostle to say: This corruptible body must put on incorruption; this mortal body must put on immortality.This was not done in outward show only, as some have imagined. This is not so. Our Saviour truly became man, and from this has followed the salvation of man as a whole. Our salvation is in no way fictitious, nor does it apply only to the body. The salvation of the whole man, that is, of soul and body, has really been achieved in the Word himself.What was born of Mary was therefore human by nature, in accordance with the inspired Scriptures, and the body of the Lord was a true body: It was a true body because it was the same as ours. Mary, you see, is our sister, for we are all born from Adam.(From a letter by Saint Athanasius, bishop)
Prayer
O God, who through the fruitful virginity of Blessed Mary
bestowed on the human race
the grace of eternal salvation,
grant, we pray,
that we may experience the intercession of her,
through whom we were found worthy
to receive the author of life,
our Lord Jesus Christ, your Son.
Who lives and reigns with you in the unity of the Holy Spirit,
one God, for ever and ever.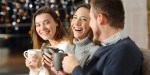 Read more:
How our family celebrates all 12 days of Christmas