The singers dressed in hard hats in a nod to the restoration effort.
At the end of such a trying year, few things could have filled us with as much hope as the Christmas concert from Notre Dame de Paris. After the 2019 fire that devastated the iconic cathedral, we worried its mesmerizing acoustics wouldn't ring with glorious sacred music until 2024. Now our fears are assuaged as the fine singers from Notre Dame's choir show there's life in the old church yet.
The eight selected singers appeared in the cathedral dressed in boiler suits and hard hats. These costumes were at the same time a nod to the incredible restoration effort at Notre Dame and a safety precaution, as they stood in an active construction site. Regardless of the regalia, seeing them stand before the stained glass, atop the sanctified checkered floor, fills one with an unmistakable feeling of Christmas.
A report from Crux Now notes that the choir had originally planned for 20 singers, but social distancing requirements forced them to make do with eight. The octet was joined by renowned cellist Gautier Capucon, who performed Bach's "Cello Suite No. 1," and an organist who played on a rented instrument. Notre Dame's famed Grand Organ was only recently disassembled and is not expected to return until the church's planned reopening in 2024.
The concert featured songs in French, English, and Latin, which the choir performed to perfection. We had to remind ourselves that they were still a French choir as they perfectly enunciated the English lyrics to "Silent Night." 
Crux Now reported that the diocese of Paris said of the show:
The diocese called it a "highly symbolic concert … marked with emotion and hope," and a celebration of a "musical heritage that dates to the Middle Ages."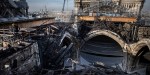 Read more:
Notre Dame choir to hold Christmas concert in empty cathedral