The glory of God in the Nativity reveals to us the glory that we will experience one day in Heaven.
This is the ninth day in our series on the 12 Days of Christmas. (To see previous days, click here.)
For the next 12 days we will offer a short reflection and a prayer to help you extend the celebration of Christmas.
Reflection
What man knows all the treasures of wisdom and knowledge hidden in Christ, concealed in the poverty of his flesh? Scripture says: Although he was rich he became poor for our sake to enrich us by his poverty. He showed himself poor when he assumed our mortal nature and destroyed death, yet he promised us riches, for he had not been robbed of his wealth but was keeping it in reserve.How great are the blessings of his goodness which he reserves for those who fear him and shows to those who hope in him! Until he gives them to us in their plentitude, we can have only the faintest conception of them; but to enable us to receive these blessings, he who in his divine nature is the equal of the Father assumed the condition of a slave and became like us, and so restored to us our likeness to God. The only Son of God became a son of man to make many men sons of God. He instructed slaves by showing himself in the form of a slave, and now he enables free men to see him in the form of God.For we are the sons of God, and although what we shall be has not yet been revealed, we know that when he appears we shall be like him for we shall see him as he is. For what are those treasures of wisdom and knowledge, what those divine riches, if not the one thing that can fulfill our longing? What are the great blessings of his goodness, if not the one thing that will content us? Therefore: Show us the Father, and all our desires will be satisfied.Christ speaks both in us and for us when, in one of the psalms, he says to the Father: I shall be satisfied when your glory is revealed. For he and the Father are one, and whoever sees him sees the Father also. The Lord of hosts is himself the king of Glory. He will transform us and show us his face, and we shall be saved; all our longing will be fulfilled, all our desires will be satisfied.(From a sermon by Saint Augustine, bishop)
Prayer
Almighty ever-living God,
splendor of faithful souls,
graciously be pleased to fill the world with your glory,
and show yourself to all peoples by the radiance of your light.
Through our Lord Jesus Christ, your Son,
who lives and reigns with you in the unity of the Holy Spirit,
one God, for ever and ever.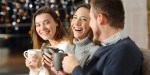 Read more:
How our family celebrates all 12 days of Christmas