The first American-born saint teaches us how to step out into the unknown and live our lives to the full.
It just after Christmas in 1803 when Elizabeth Ann Seton's life fell apart. Her husband, William, died of tuberculosis and she was left to raise their five children. The family had already fallen on hard times, descending from wealthy affluence all the way to bankruptcy. They had left their home in New York and sailed to Italy in hopes the climate would help restore William to health. Instead, Elizabeth returned to New York a widow. She struggled to support the family and must have viewed the future with anxiety. She wrote in a letter to a friend, "I have been in a sea of troubles" and commented that she'd met with more than her fair share of disapproval and humiliation from having to rely on charity to survive.
I suppose, in that type of situation, anyone would feel justified in giving up. Elizabeth could easily have pitied herself and lived in bitterness. She could have complained about her bad fortune and even felt that life was over before it even had a chance to begin.
Instead, she chose a remarkable path. 
She recommitted to her religious faith. In awe of the beauty and richness of the Church she had experienced in Italy, she became a Catholic. Then, she accepted an invitation to move to Maryland and begin a school for girls. As if that weren't enough, she founded a religious order, the Sisters of Charity of St. Joseph, which was the very first brand-new religious community founded in the United States. Today, she is a canonized saint.
I wonder what inner reserve of strength she possessed that enabled her to take such magnificent risks? What gave her the courage? Not only did she not give up during her darkest period, she emerged from it positively humming with energy.
I know I've had days when, because of stress at work or feeling like a failure as a father and husband, all I wanted to do was withdraw into myself. I'd had enough. In my vocation as a priest, part of my responsibility is setting a vision for the parish. This means reaching out in faith and taking risks. That responsibility can be a heavy burden to carry. As a married priest, when I return home, I also feel the weight of parenting. It's a risky proposition to guide little souls to maturity. I don't want to say or do anything that would cause them pain or ruin their development. Here, too, it's easy to take the safe path, to not give them the strong guidance they need, or to fail to demonstratively show them the type of love they need.
When I was an intern in a wonderful little Episcopal Church in Connecticut, Father Christopher, the priest who was mentoring me, mentioned he was taking a week to "do risky things." Then he started laughing, probably because he saw the look of horror on my face. I thought he was having a mid-life crisis and was going to hurt himself, but he explained he didn't mean his activities would include driving a hundred miles per hour on the highway. What he meant was that he was challenging himself to get out of his comfort zone at least once a day by talking to a stranger, living out his beliefs with courage, or being bold about his ministry. The example he gave me has always stuck with me.
I think often about the encouragement Pope Benedict gave when he said, "You were not made for comfort. You were made for greatness." If we want to achieve our full potential, we have to be willing to get out of our comfort zone and take a risk.
There's a difference, however, between between a risk-taker and being reckless. How can we tell if the risk is responsible? How did Elizabeth Ann Seton know which risks were the right ones? 
First, she spent time praying. When offered the chance to move to Maryland and become a teacher, she knew it was a big risk to change her life so drastically. It was a brand new school and could have easily failed, so her first act was to pray. After talking to God, she felt like it was a responsible risk to take.
Second, she relied on her support system. As she contemplated the idea of starting a new religious order, she asked advice from a number of priests and other religious. They knew more than she did about how much work it would take to make it a success. With their encouragement, she felt ready to take the risk.
Third, the risk aligned with her gifts and talents. She didn't irrationally decide to become a teacher out of desperation. She already knew she had a talent for teaching. Equally as important, she says that as she considered the idea, "I became aware of my deep desire to teach poor children." So it sounded like a risk worth taking.
Finally, she explored whether there was a need that she could satisfy. Was there a need for a girls' school? Yes. Was there a need for a religious order to staff it? Yes. Even after both projects were successful, she continued to take measured risks to help them thrive. She writes, "As our mission developed, the community took new risks in order to respond to requests beyond the valley."
I am grateful to examples like St. Elizabeth Ann Seton and the people in my life like Father Christopher who helped me evaluate the benefits of taking responsible risks. All too often, the temptation is to give up in the face of adverse conditions. It's all too easy to make excuses about how unfair life has been and settle into mediocrity, or complain about what a difficult year we're facing, or convince ourselves that playing it safe is the only way to live. The fact is, we won't grow if we don't challenge ourselves, and the decision to take risks is up to us alone. As Elizabeth Ann Seton understood quite well, it's up to us to set our eyes to the future.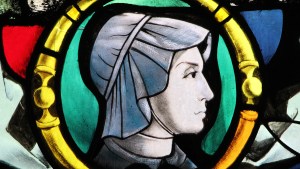 Read more:
The unbreakable St. Elizabeth Ann Seton can help us shift our perspective upwards