The possibilities include changes to the pews and stained glass, but not the rose window.
The inside of Notre Dame de Paris may look different when it reopens. A recent info leak to the French media has brought to light several suggested changes to the interior. All decisions on the matter are still in discussion and plans will not be solidified until March.
According to National Catholic Register, the proposed alterations include a different style of pews and the replacement of the stained glass windows of the nave. Although the 19th-century stained glass survived the 2019 fire, the report suggests that these windows are often overlooked. The replacement of the nave's stained glass would also include an update to the lighting.
While the nave may be refitted, the report clearly indicates that there are no plans change the famed rose window. The 13th-century Gothic window has been one of the most iconic portions of the building since it was installed in 1260.
Celebration of the Christian mystery
In response to the leaked information, the Archdiocese of Paris has issued a press release to clarify the reasoning behind the considerations. In the missive, provided by Paris Catholique, Archbishop of Paris Michel Aupetit stated:
"Beyond the heritage treasure that it represents, Notre-Dame Cathedral is the manifestation of what men can achieve when, driven by their desire to join what transcends them, they unite their strengths and their intelligence to carry out work common. The project that we are building for Notre-Dame must continue this history and make intelligible, for our century, the faith which led to the building of this masterpiece. Open to all, according to the correct understanding of the word Catholic, the cathedral has been, and will remain, constant in its raison d'être for eight centuries: the celebration of the Christian mystery."
Read more about the proposed changes and the public's response at National Catholic Register.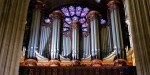 Read more:
Notre Dame's restoration of the Grand Organ is ahead of schedule