Jesus' coming into the world was so that we might learn from him the Two Commandments of Love.
This is the tenth day in our series on the 12 Days of Christmas. (To see previous days, click here.)
For the next 12 days we will offer a short reflection and a prayer to help you extend the celebration of Christmas.
Reflection
The Lord, the teacher of love, full of love, came in person with summary judgment on the world, as had been foretold of him, and showed that the law and the prophets are summed up in two commandments of love.Call to mind, brethren, what these two commandments are. They ought to be very familiar to you; they should not only spring to mind when I mention them, but ought never to be absent from your hearts. Keep always in mind that we must love God and our neighbor: Love God with your whole heart, your whole soul, and your whole mind, and your neighbor as yourself.These two commandments must be always in your thoughts and in your hearts, treasured, acted on, fulfilled. Love of God is the first to be commanded, but love of neighbor is the first to be put into practice. In giving two commandments of love Christ would not commend to you first your neighbor and then God but first God and then your neighbor.Since you do not yet see God, you merit the vision of God by loving your neighbor. By loving your neighbor you prepare your eye to see God. Saint John says clearly: If you do not love your brother whom you see, how will you love God whom you do not see!Consider what is said to you: Love God. If you say to me: Show me whom I am to love, what shall I say if not what Saint John says: No one has ever seen God! But in case you should think that you are completely cut off from the sight of God, he says: God is love, and he who remains in love remains in God. Love your neighbor, then, and see within yourself the power by which you love your neighbor; there you will see God, as far as you are able.Begin, then, to love your neighbor. Break your bread to feed the hungry, and bring into your home the homeless poor; if you see someone naked, clothe him, and do not look down on your own flesh and blood.(From a treatise on John by Saint Augustine, bishop)
Prayer
Grant your people, O Lord, we pray,
unshakable strength of faith,
so that all who profess that your Only Begotten Son
is with you for ever in your glory
and was born of the Virgin Mary
in a body truly like our own
may be freed from present trials
and given a place in abiding gladness.
Through our Lord Jesus Christ, your Son,
who lives and reigns with you in the unity of the Holy Spirit,
one God, for ever and ever.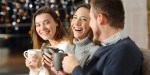 Read more:
How our family celebrates all 12 days of Christmas