Bishop Moses Chikwe and his driver free on New Year's Day.
A Nigerian Catholic bishop who was kidnapped in late December was released on New Year's Day.
Auxiliary Bishop Moses Chikwe of the Archdiocese of Owerri, along with his driver, were released on the evening of January 1.
"With gratitude to God, I hereby inform all Christ's Faithful and People of good will everywhere that at about 10:00 pm on 1 January 2021, His Lordship, Most Rev. Moses Chikwe and Mr. Ndubuisi Robert, his driver, who were abducted in the evening of Sunday the 27 December 2020 were finally released," announced Archbishop Anthony Obinna of Owerri. "I personally visited and saw Bishop Chikwe in his residence at about 10:45 pm, looking very weak from the traumatic experience. Nevertheless, we continue to thank Almighty God for His goodness to us."
Archbishop Obinna said he did not see Robert, the driver, because he had been quickly taken to hospital for treatment of a deep cut he received on his hand from the kidnappers.
Armed men kidnapped Bishop Chikwe, 53, and his driver as the bishop was returning from a visit to his residence in Owerri, in Imo State, in Nigeria's southeast. 
In remarks following the Angelus prayer on New Year's Day, Pope Francis appealed for Bishop Chikwe and his driver's release. "We ask the Lord that they and all those who are victims of similar acts in Nigeria may return unharmed to freedom and that that dear country may regain security, concord and peace," Pope Francis said.
Archbishop Obinna thanked Pope Francis for the appeal
"I sincerely thank the Holy Father, Pope Francis, for mentioning the captivity of Bishop Moses Chikwe and Mr. Ndubuisi Robert and praying for their release at his New Year Angelus Message at the Vatican just hours before they regained their freedom," said Archbishop Obinna.
Obinna thanked the Imo and Anambra State Governments in Nigeria, together with their security wings for their efforts to secure the release of Bishop Chikwe and his driver.
A spokesperson of the State Police Command, Orlando Ikeokwu, said that Bishop Chikwe and his driver were released unharmed and without any ransom paid, thanks to the police's operation in Imo State, Vatican News reported.


Read more:
Bishop kidnapped in Nigeria just over a week after priest released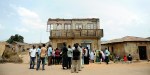 Read more:
Nigerian bishop suggests that a genocide is happening in his nation