The gifts of the Magi can be interpreted as symbols of charity, prayer and penance.
The gifts of the Magi are very symbolic and are often used to explain Jesus' mission as priest, prophet and king.
However, they can also be applied to our spiritual life and represent different part of it.
This symbolism is explained in a 19th-century reflection by Angelo Cagnola.
We should learn to recognize in the Magi the first fruits of our vocation to the faith and to thank God that we have been made Christians. We should learn also to follow the divine call and to offer to Jesus Christ the gold of charity the incense of prayer and the myrrh of holy mortification and Christian penance.
These three aspects of the spiritual life are often recognized as "pillars" in following after the example of Jesus Christ, as the Catechism of the Catholic Church mentions.
[The Christian] should strive by works of mercy and charity, as well as by prayer and the various practices of penance, to put off completely the "old man" and to put on the "new man."

(CCC 1473)
Carmelite priest of the 20th century Fr. Gabriel of St. Mary Magdalen composed a prayer that also makes the connection between the gifts and those pillars of the spiritual life.
O Jesus, I adore You, for You are the Lord my God. You have shown me that You want my poor cooperation in order to bring about the coming of Your Kingdom. You wish me to pray, suffer, and work for the conversion of those who are near and of those who are far away. You wish that I, too, place before the manger the gifts of the Wise Men: the incense of prayer, the myrrh of mortification and of suffering borne with generosity out of love for You, and finally, the gold of charity, charity which will make my heart wholly and exclusively Yours, charity which will spur me on to work, to spend myself for the conversion of sinners and infidels, and for the greater sanctification of Your elect. O my loving King, create in me the heart of an apostle. If only I could lay at Your feet today the praise and adoration of everyone on earth! Let Your star shine for me today, and point out to me the road which leads directly to You! May this day be a real Epiphany for me, a new manifestation to my mind and heart of Your great Majesty.
As we look at our own spiritual lives, may we seek to incorporate prayer, charity and penance. These are essential to living a Christian life and will help us follow Jesus, wherever he leads us.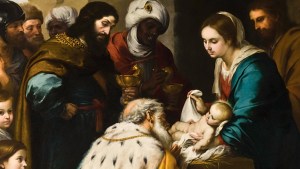 Read more:
Did St. Thomas the Apostle baptize the Three Wise Men?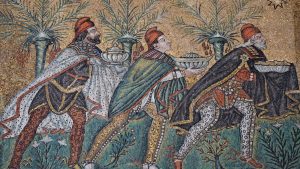 Read more:
Wise men from the East: "Historical facts fit Matthew's account perfectly"