This cheerful man is a courageous advocate for people with disabilities.
Jordi Sabaté Pons is a 36-year-old former businessman from Barcelona. Six years ago, his life changed when he was diagnosed with ALS (amyotrophic lateral sclerosis, also known as Lou Gehrig's disease).
Nowadays, Jordi spends all his time in a wheelchair or in bed, in front of a machine that reads the movement of his eyes and allows him to communicate: Every movement becomes a letter. Thanks to this technology, Jordi is on Twitter and has more than 32,000 followers.
In a video he shared in a tweet, he illustrates the technique, using his device (attached to a voice synthesizer) to say in Spanish: "Hi, good-looking people, this is how I communicate with you. Good night, kisses and hugs."
Así me comunico con vosotros gracias a unos infrarrojos que leen el movimiento de mis ojos y me permite utilizar un teclado virtual para escribir y un reproductor de voz para hablar. 😀💪 pic.twitter.com/uoFrAbyEsh

— Jordi Sabaté Pons (@pons_sabate) August 24, 2020
Jordi has a great sense of humor. He's an avid fan of a Barcelona soccer team, the "RCD Espanyol," and he loves life. His messages are positive and full of faith and hope.
"I feel lucky"
On December 12, he wrote,
More than 6 years ago I started with the symptoms of ALS. The average life expectancy of this cruel disease is 3 years, so I feel lucky. I can't move, I can't talk, I can't eat, I can't drink and I can only breathe with difficulty, but I can make love. ALS isn't so bad.
He ended the message with a laughing emoji, characteristic of his cheerful and humorous outlook.
Hace 75 meses que la ELA escogió mi cuerpo.
Hace 75 meses que la ELA me condenó a una muerte cruel.
Hace 75 meses que la ELA empezó a paralizar mi cuerpo, a no poder hablar ni comer ni respirar.
Hace 75 meses que sigo amando la vida con esperanza de que se encuentre una cura.💪 pic.twitter.com/XgYMAQtGBw

— Jordi Sabaté Pons (@pons_sabate) December 3, 2020
Jordi was particularly struck by the news that Spain is in the process of approving a law legalizing euthanasia. It passed the Congress on December 17, 2020, and is expected to be approved by the Senate in coming days, coming into force in 2021.
Over the years he has connected with many ALS sufferers and knows that this law is essentially a death sentence. He decided to get into action and called for a day of protest with the hashtag #mueveundedoporlavida ("move a finger for life"). He announced it in a tweet:
I am constantly being told by friends who have the same deadly disease as I do, ALS, that they are forced to die, because they do not have the human and financial resources for their essential care. My helplessness, my anger and my indignation have caused me to start the campaign #moveafingerforlife
The result has been a wave of solidarity and empathy. Many people, organizations and families recorded videos in which they literally move a finger, and published messages of support, to make it clear that euthanasia is not the solution to the problem.
To achieve a better society
In recent days, Jordi said that he sees himself as an activist on Twitter. In the face of hate on social networks, "others of us … chose to bring love, humor and joy," he told Alfa y Omega, "to try to create a better society." He explained,
I'm one of those people who prefer to make love and not war; I prefer to do good rather than evil. I think we need more love, joy and humor in this world to silence so much hate and violence.
Hace 9 meses que me casé y os quiero presentar a Lucía, mi mujer. La vida de casado es preciosa, apenas consumas, cuando te aburres discutes y no hace falta que te peines cada día. Bromas a parte, el matrimonio y el amor es algo maravilloso. Viva la vida y viva el amor! pic.twitter.com/xVNGrQVNxr

— Jordi Sabaté Pons (@pons_sabate) August 27, 2020
He is now using his online influence to help promote a proposal for a law to counterbalance the legalization of euthanasia. In the face of a law that provides support for "death with dignity" (as euthanasia is often called), he asks an important question:  "Most of us terminally ill patients are unable to pay out of our pockets the necessary care to keep living. When will there be a law to help us have the right to a dignified life?"
Further on, he insists that "we must prioritize … a dignified life rather than a dignified death." He calls for funding to support continued research into cures for incurable and degenerative diseases, and subsidies for the terminally ill.
Loved by his wife
Jordi is grateful, especially to his wife. On December 13, feast of St. Lucy (Lucía in Spanish), he tweeted:
Congratulations to all Lucías! Especially to my wife Lucía for wanting to share her life with a bald man who can only move his eyes like a baby doll.
Hace un año pude disfrutar de la maravillosa sensación de sentir la brisa del mar en los labios de mis dos bocas. 😁💪 pic.twitter.com/uFgOvrlVeq

— Jordi Sabaté Pons (@pons_sabate) July 10, 2020
"Helping others helps me"
He never stops sending messages of encouragement to other people who are sick or who are going through difficult times. He knows that he conveys strength because ALS has taught him to approach life differently.
"When you know what it's like to sink, you bring out of yourself a spectacular motivational force," he says, "and I want to share it with everyone. Besides, helping others helps me."
"I feel Christ at my side"
For Jordi, his Catholic faith is what sustains his life. He says,
I have faith in Christ and I feel him by my side in the good moments of life, and also in the hard ones… He created life and he will never abandon us … God is my friend through thick and thin.
Ya que mañana después de 40 días de confinamiento por fin podré salir a correr por las calles de Barcelona, hoy estoy haciendo estiramientos no vaya a ser que me lesione después de estar tantos días sin poderme mover. 😄💪 pic.twitter.com/gkg6Y2OXSW

— Jordi Sabaté Pons (@pons_sabate) May 1, 2020
He says he owes his faith to his mother and to the Catholic school where he studied. He recalls,
My mother, God rest her soul, had a lot of faith and I guess it's partly because of her. I also studied for several years with the Salesians in Sarrià and knowing the life of Don Bosco strengthened my faith in God. Long live Don Bosco!
Long live Jordi, too! He is an inspiration to so many, and a courageous voice for truth and justice.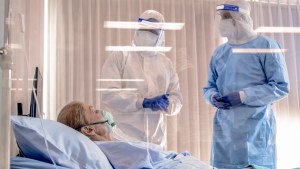 Read more:
75-year-old woman with advanced ALS leaves intensive care cured of COVID-19