The site may have also been the spot where Salome performed her dance.
Need an idea for Lenten almsgiving?
Help us spread faith on the internet. Would you consider donating just $10, so we can continue creating free, uplifting content?
Make a Lenten donation here
A team of archaeologists working at the site of Machaerus, the fortified palace of Herod Anitpas, located in modern-day Jordan, believe they have uncovered the dance floor where Salome performed her infamous dance. If correct, the site would also be the location where John the Baptist was sentenced to death.
The death of John the Baptist is recorded in Matthew 14 and again in Mark 6. Both biblical narratives explains that King Herod Antipas was to marry Herodias, but the two had been previously married and to other people. John the Baptist fell into the king's displeasure after he publicly criticized their nuptials, condemning the union as sinful.
Herod Antipas was reluctant to execute John the Baptist, for fear of an uprising by those who viewed John as a prophet. Herod imprisoned John, but he was soon manipulated to execute the prisoner by Herodias, through her daughter, Salome. As the Gospels tell, Salome danced so well for the king that he promised her anything she would ask. At her mother's suggestion, Salome asked for John the Baptist's head on a platter — a request that was granted.
Salome's dance floor
According to LiveScience, excavation director Győző Vörös suggested that the pavilion at Machaerus is likely the spot where Salome danced. He noted that the dance floor, which was initially discovered in 1980, features a small niche to the side. Vörös is confident that this niche would have at one point accommodated a throne, which he believes solidifies his theory. Herod would have been in the seat which symbolized his authority as he watched the dance.
The announcement has been met with mixed reactions from experts. Some have agreed that this is most likely the site of the famed biblical account. Others, however, suggest that the niche could have had other purposes, as it might not have been large enough for a throne.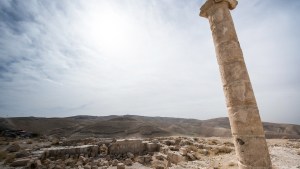 Read more:
Historic wall of Herod's palace shown in set of new 'Salome' production