In only 60 seconds, a short film captures the tenderness, beauty, and universality of the longing we all have for a mother's embrace.
Need an idea for Lenten almsgiving?
Help us spread faith on the internet. Would you consider donating just $10, so we can continue creating free, uplifting content?
Make a Lenten donation here
No matter how old you are, you will always be your mother's child and long for her embrace. A loving mother heals our hearts and provides deep rest and consolation. Whether our mothers are near or far, whether our relationship with them is close or plagued with problems, all of us long for the acceptance, love, and care of a mother.
Iranian film maker Mohammad Reza Kheradmandan has captured this in his moving one-minute film called Mother, and he shares the inspiration behind his film below.
What inspired you to make this short film?
Mohammad Reza Kheradmandan: This idea and two other ideas I have had for short films were related to the period we were going through my mother's cancer treatment and after my mother passed away. All three short films I have directed represent the importance of mothers in our lives, and the films are a product of how much I missed my mother.
What is the main idea you would like the viewer to take away after seeing this film?
The view I have about motherhood, and this can be seen across the world and all cultures, is that mothers are the most important and the safest places of shelter for any human. No shelter in the world is as comforting as the embrace of a mother … if anyone has experienced the embrace of their mother they would acknowledge this. Mothers are the greatest blessing and no one and nothing can replace the absence of a mother, and this is a shared trait among all people in the world. I produced this short film through the lens of loss and pain of absence that I felt for my mother and the absence of her embrace.
Why did you decide to use an old man and not a younger man?
I had seen other people producing films about motherhood, but they had the perspective of a child and the relationship between mothers and children. However, I thought this is not the case — any person, no matter what age, even if they are old — longs for the embrace of their mother. So I wanted to present this view that the loss of a mother will always be felt, and that is why I showed the old man as the main character in the film.
How important is motherhood in your opinion?
The root of any person and their personality — their compassion, affection, tenderness, or even if they have negative personality traits — could be from their mother. I think if a person has experienced the affection of motherhood, which is so deep and vast, they will transfer this love to someone else. The spring of love begins with mothers and flows to the rest of society. I will share something interesting with you, in the Iranian culture there is a saying; "drinker of pure milk," which means if a person is good, it means they have been raised by a good mother and the good things they do, the root of it is from their mother.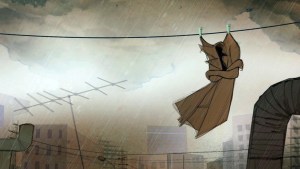 Read more:
Animated film shows the power of fatherhood in just one minute