The image of St. Joseph gazing lovingly at Jesus in his arms can provide a model for our prayer.
Need an idea for Lenten almsgiving?
Help us spread faith on the internet. Would you consider donating just $10, so we can continue creating free, uplifting content?
Make a Lenten donation here
While little is known definitively about the life of St. Joseph, much can be imagined from the fact that he was the foster father of Jesus.
For example, as a loving father, he likely held the infant Jesus in his arms.
This particular image is a perfect model for us with regard to contemplative prayer.
The author of the 19th-century book The Life and Glories of St. Joseph reflects on this image.
St John the Evangelist enjoyed for a brief hour a blissful ecstasy while reclining on the Bosom of the Savior but how many times did not the Savior Himself take His repose on that of Joseph and sleep sweetly in his arms? Every kind of divine and human light inclosed in the Heart of the Savior must in a sense have been infused into the soul of Joseph when He thus lovingly reposed in his embrace … we must place the incomparable Joseph at the head of all the greatest contemplatives since he lived in a continual state of contemplation in its most exalted form.
According to the Catechism of the Catholic Church, "Contemplative prayer is the simple expression of the mystery of prayer. It is a gaze of faith fixed on Jesus, an attentiveness to the Word of God, a silent love. It achieves real union with the prayer of Christ to the extent that it makes us share in his mystery." (CCC 2724)
Contemplation might best be summarized by the phrase, "I look at him and he looks at me," a description of prayer that "a certain peasant of Ars … used to say while praying before the tabernacle" (CCC 2715).
Doesn't that phrase perfectly summarize the life of St. Joseph, who so often looked at Jesus while he gazed back at him?
If we want to ascend the heights of the contemplative life, look to St. Joseph as a supreme example!
Read more:
Prayer to the Father, inspired by Jesus' father on earth, St. Joseph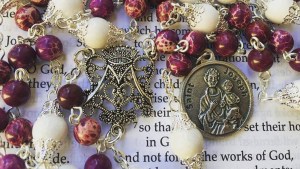 Read more:
Try the Joseph Rosary