This episode from the fascinating memoir by Jim Wahlberg reveals God's power and the importance of friendship.
Send us the names of your loved ones who are sick or suffering. The Aleteia prayer network of 550 monasteries will take them to prayer for the World Day of the Sick.
Click here to share your intentions
You might be familiar with the last name Wahlberg—the nine siblings include celebrities Mark, Donnie, and Robert, and chef, Paul. But the story of their brother Jim is one you probably haven't heard before.
Like his siblings, Jim grew up in difficult circumstances. His youth was filled with addiction, anger, crime, and time in prison.
But through the loving mentorship of an incredible prison chaplain, Jim found Christ. He became not only a law-abiding family man, but also a devout Christian and dedicated disciple.
Wahlberg shares the story of his conversion in his new book, The Big Hustle. It's a gripping and incredibly moving memoir, the kind that will have you on the edge of your seat, unable to put it down.
The book reads like a modern-day version of St. Augustine's Confessions: The drama and scandal he describes highlight the power of his miraculous redemption. His story is guaranteed to stick with you, and leave you pondering its many lessons.
The Big Hustle offers many insights for men, with its examination of fatherhood and family life. One story stands out for its testament to men's friendships—especially when rooted in faith and shared values—and to the power of God.
Wahlberg is very involved with the men's Emmaus group at his local parish. Recently, he recounts in the book, one of the group members "came to the rest of us and explained that he had legal problems and was going to be appearing in court. He said he'd really appreciate it if a couple of us showed up" (150).
The group united to support him:
We did. But it wasn't a couple of us, it was fifty of us, dressed in our Emmaus shirts, which are white and emblazoned with a cross and a rose. There were so many of us that the judge assumed we were there for the prosecution, not the defense.
But it turned out that his friend's case went far beyond mere "legal problems." He had participated in a violent assault, captured on a home video surveillance camera. The prosecution was seeking a sentence of up to 15 years in prison.
The judge commented on the incredible turnout in support of the defendant, but it didn't seem like it would make any difference. Prison seemed inevitable.
The defendant was granted a continuance and the case would be taken up a week later. The night before the next court date, Wahlberg visited the defendant, his Emmaus brother. He recalls,
There was no doubt in my mind that he was prison-bound. How could he not be? I'd seen the video. He was obviously guilty of a serious crime. And the judge, while impressed with our turnout, had made sarcastic cracks about the case. The only question was how much time he was going to serve … I thought the only way I could be of service to him was to tell him what to expect in prison: how to behave, what to do and what not to do, how to survive the ordeal. So that's what I did over dinner—his last supper as a free man, I assumed.
But God had something else in store. The next day, 75 members of the group showed up in court, wearing their Emmaus shirts. The judge was shocked. He addressed the defendant, saying,
If I even considered giving you a break … It would be because I know these men are prepared to keep you accountable and to show you a better way to live. They're prepared to mentor you. These guys took a day off from work—twice—and by my count there are more here today than the last time (151).
The judge gave him house arrest and probation, and Wahlberg's Emmaus brother walked out of the courtroom and into the sunshine rather than to prison. Wahlberg and the rest of the group were in awe of what God had done:
We, the men of the Emmaus retreat, walked out of the courtroom, stunned. We dropped to our knees and said the Rosary in the hallway of the Broward County Courthouse. How dare we doubt the power of God! How dare we doubt what is possible with him! What a lesson this was for each of us. No matter how blessed we have been, when the going gets tough, we too often look to ourselves. What am I going to do? How am I going to fix this? It overwhelms us; it consumes us … I should be taking it to God. Whatever is going to happen will happen, but I won't have to handle it alone. That reassurance, that comfort, is so beautifully powerful.
The story is a moving testament to God's providence. But it's also a witness to the impact of a strong, supportive men's community.
The judge touched on a profound truth when he entrusted the Emmaus group with helping their brother choose what's right. Friendship, and the positive pressure of a supportive and righteous community, makes an enormous difference in a person's life.
Connection is so important, in fact, that researchers believe it is perhaps the most important way to overcome addiction. Incidentally, the disease of addiction is a major theme of the book, as it affected not only Wahlberg himself at one point, but also many of his family members and friends. In recent years, he has committed to fighting against it wholeheartedly, and he goes into much more detail about that in the book.
The courtroom story helps to recall the important truth that men benefit from nourishing their friendships, even when it takes time and energy. These relationships change lives for the better. They may lead to amazing results, as happened to Wahlberg's Emmaus group, and the effort will always be worth it.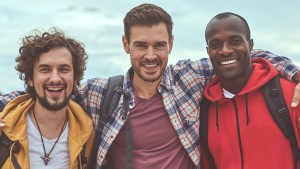 Read more:
Why every man needs a small group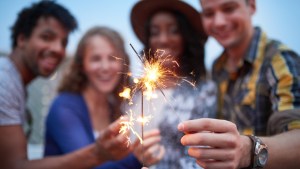 Read more:
12 Truths about making lasting friendships from St. John Henry Newman