The Byrne Brothers capture the beauty of Irish culture and family harmony.
If you're in need of a boost, then look no further than this Irish family band. The Byrne Brothers are famous in their native Ireland for their musical talents. Encapsulating the beauty of the Irish culture with the use of traditional instruments such as tin whistles, bagpipe, and the bodhran, the family complements their music with some impressive Irish dancing.
The band is made up of some serious talent: Dempsey, 11, Finn, 14, Luca, 16, and their dad, Tommy. All the members were champion musicians back in the Emerald Isle, with the boys also notching up a few awards for their Irish dancing skills.
The family originally came to fame back in 2015 when they appeared on Ireland's popular The Late Late Toy Show. They then made a number of videos performing on the streets of Ireland, garnering millions of views. Eventually the band moved across the pond three years ago, bringing the magic of Ireland with them.
While the siblings and their dad seem in perfect harmony, behind the scenes their "mammy," Julie, lends essential support in sound engineering, social media and merchandising. Although, most importantly, her role is that of being "the best mammy in the world." As the band's website shares: "She is also the best cook in the world and gives the best cuddles."
So if you'd like to enjoy the traditional sounds of Ireland, performed by a family in unison, take a look at this viral video below, or check out their Facebook page to discover some more performances!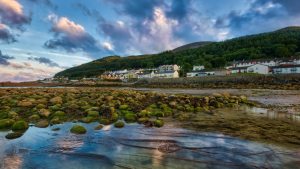 Read more:
This Irish blessing is what we all need to hear today