Education needs to move beyond slogans.
What can God do in your life with one Bible verse a day?
Subscribe to Aleteia's new service and bring Scripture into your morning:
Just one verse each day.
Click to bring God's word to your inbox
What if you saw this sign on the lawn of your local school?
Together We Are Empowering All Students to Pursue Their Passion and Succeed in a Changing World
Sounds nice, doesn't it? After all, who could be against empowerment, right? They're going to empower all students, and "all" is the apex of the recently-discovered virtue of "inclusivity," so that's a plus, isn't it? Students are going to pursue their respective passions—well, what's the alternative? Not pursuing passion? That can't be good, can it? What did the poet say about passion and dreams? "What happens to a dream deferred? Does it dry up like a raisin in the sun?" Their gratification will not be delayed! And they want the students to succeed! If the only alternative to success is failure, then succeeding is clearly superior, isn't it? And it's certainly a changing world we're living in—that's undeniable. So the message of this sign is unassailable!
Or is it? The sign is resting upon a dubious view of freedom that I talked about in my last column (find that HERE).
In brief, this view of freedom focuses on being unconstrained, and does not talk about what one ought to use one's freedom for. "I can do whatever I want!" is a declaration that needs to be followed immediately by the question, "What should I want?," or trouble will surely follow.
The appeal of the sign is that it gives one a momentary rush of emotional tingles ("We're empowering the kids!"); the danger of the sign is that if one empowers but doesn't guide or train, then the school is failing while smiling; the opportunity of the sign is that it gives us a chance to ask some good questions and do some sound thinking.
In other words, on its own, the sign is a mess, but it can be redeemed.
What does it mean to empower students? Does it mean giving them an iPad? Does it mean giving them a slogan? Does it mean cheering them on, regardless of their direction or consequences of their actions? Real education doesn't mean simply handing over technology and chanting happy hymns of self-esteem. Real education does include giving students information, of course. It also includes formation and transformation.
Formation is the process of taking the student's good potentials and possibilities and actualizing them, making them real. It's the work that enables the students to go from "I can't do it" to "I can prove that I'm able to do it."
In addition, real education includes transformation, that is, taking what was incomplete, imperfect, or incorrect and reshaping it and growing it rightly. It's the work that enables the students to go from "I don't do that well" to "I have done it well consistently."
That brings us to the question of passion. I've suffered walking into a classroom of listless and indifferent students many times. It takes a lot of work to help them to catch fire. They can do more when they are passionate; they also have to learn to do their duty even when they don't feel like it—especially when they don't feel like it. They also have to be taught what to do when they passionately desire what isn't good for them.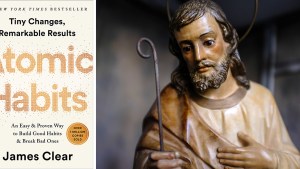 Read more:
'Atomic Habits' and the Little Way of St. Joseph
That brings us to the question of "success." What does it mean to succeed? Is it graduation? A career? Wealth? Fame?
St. Ignatius of Loyola spoke of the First Principle and Foundation: "Man is created for the praise, reverence, and service of God." Achieving that end is the only real success; failing to achieve that end is the most complete failure. In other words, the education that students need most is to learn how to orient themselves towards what the Creator created them for, namely, Himself.
The sign above is correct. We do live in a changing world. I'm typing this on a machine that would have been unintelligible to me 40 years ago when my parents gave me a portable typewriter as a high school graduation present. A sound education will help the students to learn how to be a learner. A sound education will also help the students to hold onto what is unchangeable: Do good and avoid evil; love God and neighbor as yourself; only God can fully satisfy the human soul.
It seems to me that the school that posted the sign on its front lawn offers the students neither map nor compass, but promises to help them get to wherever they choose to go—whether it's good for them to go there or not. I think that schools can and should do better than that. And our students certainly need better.
When I write next, I will speak of time, history and hope. Until then, let's keep each other in prayer.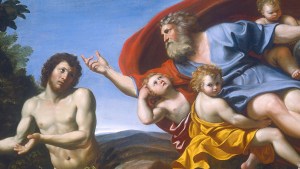 Read more:
Why did God give us freedom?