A closer look at levels 3 and 4 of the Four Levels of Happiness.
Aristotle asserted that happiness is the one thing you can seek for itself—but how does this seeking affect everything else around you? Your own happiness has the power to improve your health, mood, well-being—and even your relationships with loved ones, community, and God.
In a previous article, we looked at Fr. Robert Spitzer's Four Levels of Happiness and how each level has a corresponding level of love. There we focused on happiness level 1 (which seeks physical/material fulfillment) and happiness level 2 (which seeks to fulfill one's ego). We found that the most important relationship in level 1 is with things, and the most important relationship in level 2 is with self. 
In this article, we'll map out happiness level 3 and 4 in terms of our relationships with self, others, and God. 
Level 3 Happiness: Contributive—Focus is on relationship with others 
Unlike levels 1 and 2, which seek personal satisfaction, the third level of happiness seeks to contribute. Thus, those who live with a dominant level 3 view of happiness have a generative view of love. Their primary interest is in the betterment of others, the community, and the culture. 
Though it sounds like level 3 happiness solely benefits other people, the benefits for yourself are immeasurable. Viktor Frankl saw this during his experience in a concentration camp:
"… being human always points, and is directed, to something or someone, other than oneself—be it a meaning to fulfill or another human being to encounter.

The more one forgets himself—by giving himself to a cause to serve or another person to love—the more human he is and the more he actualizes himself.

—Viktor Frankl [emphasis added]
Similarly, Jesus told us that in giving we receive. Frankl's studies show us that Jesus didn't say this only so that we would help others. Rather, giving is something we need to do if we want to realize our full potential and find happiness. 
The problem with level 3 is it fails to address the transcendental nature of the human person and consider their eternal happiness/salvation. Thus, we move on to level 4.
Level 4 Happiness: Transcendent—Focus is on relationship with God
Level 4 happiness addresses our need for transcendent fulfillment. For Christians with level 4 happiness, the most important relationship is with God. Because of this relationship and their transcendent outlook, they are able to consider the full nature, dignity and destiny of themselves and the ones they love.
Level 4 love also moves beyond level 3 in that it acknowledges the transcendental significance of good and evil. In level 3, good and evil are simply the qualities and results of the choices we make. In level 4, good and evil take on a supernatural significance:
"Once we recognize this dimension of reality, our love for others cannot stop at fair conduct and ethical propriety; we will want to protect people from the power of darkness by helping them to see the power of absolute light and love. We will desire this not only for individuals, but also for our culture, and even the human community." —Fr. Robert Spitzer,

The Light Shines On in the Darkness
How to enhance level 3 and 4 happiness and love in your life (and improve your relationships)
In his book The Light Shines On in the Darkness, Fr. Spitzer gives 3 ways to make level 3 and 4 love more giving, compassionate, and self-actualizing. 
The first way is empathy, which starts with looking for the good news in the other. By doing so, we actively acknowledge their kindness, strength, virtue, delightfulness, and transcendent mystery. Unleashing empathy is what makes compassion possible. 
A second way to enhance love is through conscience. Our conscience gives us a love of the good and a fear or revulsion of evil. Not only does following our conscience prevent us from causing harm to others, it also provides us with a sense of "at-home" with ourselves. 
A third way to enhance love is with prayer and grace:
"Prayer—particularly contemplation and the Examen—allows

God

to touch our hearts (grace), which frees us from our egocentricity, so that we might empathize and care for others with ever greater compassion, humility, and authenticity—in imitation of Jesus. In this way, Level 4 supports and enhances Level 3 desires, which in turn enhance Level 3 love." —Fr. Robert Spitzer,

The Light Shines On in the Darkness
Conclusion
So, where are you in the 4 levels of happiness and relationship? It's important to keep in mind that while your happiness shapes your relationships, the opposite is also true: your relationships affect your happiness. Only when your relationships are in their proper order will you find ultimate happiness and fulfillment. Or, as Jesus told us, seek first God and his kingdom, and then all the other good things will follow. 
To learn more about the 4 Levels of Happiness, see Fr. Robert Spitzer's book Finding True Happiness.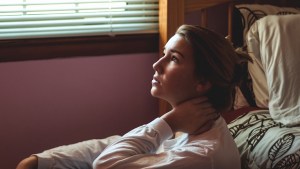 Read more:
How to do a Yearly Examen for spiritual clarity in the New Year