Share the liturgy with the littlest Catholics through these thoughtful resources made just for kids.
While many are fortunate to be attending Mass in person again, some Catholics are still doing "Mass at home" during the pandemic, either on Sundays or for weekday Masses. Families with young children often find it difficult to engage them in the Liturgy, so if your children are struggling to pay attention when you watch Mass online or on TV,  try one of these helpful resources made just for kids.
1
Children's Liturgy of the Word with Miss Heidi
Catechist Heidi Witte offers a Kids' Liturgy channel on YouTube, an engaging and age-appropriate option for little ones.
2
MagnifiKid
These wonderful little weekly magazines guide children through all the prayers of Sunday Mass and include fun features like a comic about a lovable monk, crafts, daily prayers, and activities for families. It's a great tool to use at home, too!
3
Spiritual Communion craft
Making a Spiritual Communion is a beautiful way to tell Christ how much we long for the Eucharist when we can't receive it. Catholic Icing has a coloring page and printable craft to help children learn about this practice.
4
Gospel Coloring Pages and Worksheets
Catholic Mom has coloring pages, worksheets, and lesson plans to help kids follow along with the Gospel each week. These can occupy young children while the rest of the family is watching Mass or reading aloud the Liturgy of the Word.
5
Holy Heroes Sunday Mass Prep
Holy Heroes has a weekly video and activities to prepare children for Sunday Mass.
6
Archdiocese of Singapore Children's Mass
The Archdiocese of Singapore shares a weekly Mass for kids video on YouTube, including pre-Mass catechesis.
7
Catholic Kids Media
Catholic Kids Media YouTube channel has short videos for kids about the weekly Sunday Gospels.
8
Ignite-Canada Children's Liturgy of the Word
The Redemptorists of Canada share a weekly video on their YouTube channel acting out the Liturgy of the Word with puppets, a fun way to share Scripture stories with little ones.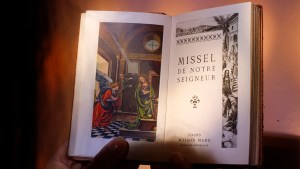 Read more:
Still watching the Mass online? Here's a missal for you