The 70-year-old prelate became ill after Christmas and was isolating in his home.
The leader of the Catholic community in Scotland has died after contracting COVID-19. Archbishop Philip Tartaglia, of Glasgow, tested positive shortly after Christmas and spent his last days isolating in his home. The prelate died just two days after celebrating his 70th birthday.
A report from Metro UK notes that the cause of death is unclear. Although he was infected with COVID-19, it is still possible that any number of illnesses could have caused the archbishop's death. The report notes that he died on January 13, the feast day of St. Mungo, who is the patron saint of Glasgow.
In a statement published by Yahoo News, President of the Bishop's Conference of Scotland Bishop Hugh Gilbert remembered Archbishop Tartaglia as a "gentle and caring pastor who combined compassion with a piercing intellect." He said:
"His loss to his family, his clergy and the people of the Archdiocese of Glasgow will be immeasurable but for the entire Church in Scotland this is a day of immense loss and sadness." Bishop Gilbert continued, "His contribution to the work of the Bishops' Conference of Scotland over the past 16 years was significant and we will miss his wisdom and wit very much."
Archbishop Tartaglia was a Glasgow native, born in the city in 1951. Tartaglia was ordained a priest in 1975 and was elevated to the bishopric of Paisley in 2005. In 2012 he was named archbishop by Pope Benedict XVI.
The Archdiocese of Glasgow will appoint an administrator to tend to the Catholic community in Scotland until a new archbishop is named.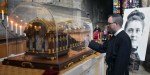 Read more:
"There's still great faith in Scotland" and St. Therese is proving it