What came first, the cave or the church?
A study of early Christian holy sites has suggested that pilgrims began visiting them earlier than records might indicate. The research examined some of the earliest known biblical sites and questioned how early they were recognized as such.
Prof. Ken Dark of England's University of Reading presented the evidence to the Royal Anthropological Society, in London. JPost reports that his findings called into question the timeline of religious practices at sites like the Church of the Nativity and the Church of the Holy Sepulchre. The key, Dark explained, comes from their placement inside of caves, both natural and artificial. 
Located by tradition
That so many sites related to Christ are found in caves suggests that the caves would have existed as holy sites before they were furnished as shrines. The shrines and churches would have been built to accommodate the presence of the faithful. Dark argues that the sites must have been associated with biblical events long before Church structures were constructed within. Using the Church of the Nativity as an example, Dark said:
"On archaeological grounds alone, the best interpretation of this layout is, therefore, that the church and its altar were positioned because of the pre-existing religious importance of the cave."
To support his theory, Dark drew upon the writings of Christian historian Eusebius, who recorded the construction of several churches in the 4th century. Eusebius noted that at least four churches were erected over sites already referenced in biblical accounts. Dark suggests that these caves were chosen because of a preexisting association with Christianity. He continued that the choice to commemorate these caves supports his theory that they were already active religious sites. He said:
"If the events commemorated were the same as those associated with their later churches, then they could have been understood as a narrative sequence from the Annunciation to the Resurrection, as each cave (and the tomb at the Holy Sepulchre) is associated with just one of the events described in the Gospels. So perhaps believers traveled between them following the order of those events — the earliest a form of Christian pilgrimage."
Read more about Dark's fascinating study at The Jerusalem Post.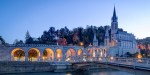 Read more:
Catholic pilgrimage sites have been hit hard by pandemic restrictions