Discernment can seem intimidating, but Sister Josephine Garrett urges Catholics to trust in God's providence and make it part of our everyday lives.
Need an idea for Lenten almsgiving?
Help us spread faith on the internet. Would you consider donating just $10, so we can continue creating free, uplifting content?
Make a Lenten donation here
Sister Josephine Garrett, a Sister of the Holy Family of Nazareth, was talking to the Superior General of her congregation when her superior expressed a worry about young members of their community. She said, "I'm very concerned that young people don't understand the nature of commitment."
This concern, of course, doesn't only apply to those in religious life. It's an issue for laypeople too. It seems to be as widespread among Catholic youth as in the secular world.
This concern, and how to respond to it, is among the topics addressed by Sister Josephine's profound and witty observations in her OSV Talk called "Daily Bread Discernment" (available to watch on Vimeo and Facebook).
The video is one in a series of OSV Talks, which shine a light on creative means of evangelization, springing from the wisdom and deep prayer that energize these approaches. The talks, which are similar to TED Talks but with a Catholic focus, are free and available for anyone to watch at OSVTalks.com.
Discerning a commitment can feel very intimidating. Sister Josephine recalls seeing young people "disintegrate into heaps of tears" when faced with figuring out what God is calling them to do. She deeply knows the anxiety that can surround discernment.
Besides her ministry to families with her religious congregation, Garrett is a board-certified and licensed counselor, specializing in healing trauma, and child and adolescent counseling. She serves in private practice and also as the school counselor for St. Gregory Cathedral School in Tyler, Texas. Before becoming a Sister, she worked in the banking industry for over 10 years as an operations manager and a project manager.
Sister understands the world, the Church, and young people today. Both personally and professionally, she has witnessed at close range the worries they face.
She has herself walked the road of struggling to discern. In her talk, she humorously recounts how she "feared and doubted, and feared and doubted" all throughout her discernment of becoming a religious sister. She joked that, instead of daily bread, she wanted "five-year-plan bread."
But this anxiety about discerning God's will, and the fear of commitment that goes with it, are not the approach Catholics should be taking. Discernment is not a "one and done," once-in-a-lifetime, agonizing decision.
Sister Josephine movingly urges Catholics to practice discernment every day. Trusting that God wills good for us, we can practice daily discernment in constant conversation with God about all aspects of daily life. She said in an interview with Aleteia,
I think our most common offending sin is trying to be our own creators, rejecting God's law and His fatherhood because we don't trust him to meet our needs; we don't trust that His love cannot only extend to meet our needs every day, but that his love extends even beyond death, so that there is no suffering that will have the last say in our lives… Living in the present moment, attending to God's call right now in the ordinary experiences of daily life, and responding in the ordinary experiences of daily life truly can transform our relationship with God, and the entire world, because in this way, we become co-creators with him, helping to spread the reign of God's love in the world.

I cannot stress enough the importance of the common priesthood bestowed on all the baptized. How we discern and listen in our daily lives, in our ongoing relationship with God, matters throughout the entire body of Christ.
Since becoming Catholic, and especially as a religious sister, Sister Josephine has a new understanding of God's providence and the radical trust it requires. The continuous "daily bread discernment" that she described recalls a prayer of St. John Henry Newman, who wrote, "I do not ask to see the distant scene; one step enough for me."
The most important part of Catholic innovation, then, is an ongoing inner conversion of heart. "I think the most important part of Catholic innovation is about innovating from the inside out," Sister said. "I will be frank and say that I am beginning to wonder if we know how to pray, if we pray as often as we should, if we have daily lives of prayer."
Those who wish to serve the Church must begin with this "internal innovation," she said. No ministry or innovative approach can succeed without this renewal of prayer. Sister said,
Anyone who hopes to innovate in the Church must have a relationship with God, founded on daily prayer and frequent reception of the sacraments of the Eucharist and reconciliation, otherwise there is a real danger in the ministry … I challenge us to ensure that we embrace time of silence, grow in the school of prayer, learn ways of prayer that help us to better hear God's call in daily life, read Scripture, go to Mass as often as possible, and go to confession very regularly … I think it is our greatest challenge from a perspective of innovation: a renewed sense of the treasure of daily prayer and the sacraments, and it being unheard of to write, speak, and minister in the Church without having a life of prayer, and frequent reception of the sacraments of the Eucharist and reconciliation.
With good humor and great insight, Sister Josephine encourages Catholics who wish to renew the Church to really commit themselves to daily and ongoing conversation with God, about every aspect of life, whether big or small. Innovation starts in our own hearts.
Her wisdom can lead us to love God and our fellow man in a way that is truly distinct and set apart from the world. With God's grace, we can put into practice this inner innovation. We can commit to God's will for us, one day at a time, in a trusting discernment that lasts a lifetime.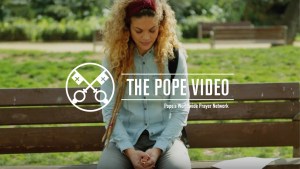 Read more:
Pope Francis encourages spiritual discernment that frees a person from the "culture of death"
Read more:
The art of discernment: How to make the right choices